Refund Policy for SaaS
A well-written Refund Policy is a good way to increase your customer satisfaction, and it keeps customers coming back to your store.
Whether you sell them physical products or services that are cloud-based, it's important to have a copy of your business Refund Policy easily accessible on your website.
Either as part of your terms and conditions agreement or as a standalone document.
By doing this, customers will have a better understanding of their rights, before engaging your business.
This article will explain the different parts of a Refund Policy for SaaS apps, whether it's mandatory to have one, what it should contain, how best to display it, and more. Continue reading to learn more.
What is a Refund Policy?
The Refund Policy is a written statement adopted by business owners and service providers, which specifies the procedures for receiving refunds for products and services earlier purchased by customers.
The requirements for eligibility, the types of items refundable, the refund window, and the refund process are typically outlined in the document. Customers can initiate a refund if the products and services they get are of low quality.
Therefore, a Refund Policy serves as a legal arrangement that will guarantee that your business ensures a smooth refund process for your customers. It is a privilege a dissatisfied customer can exercise whenever the need arises.
While the customers gain from this policy, the businesses are the ones who bear the risks.
Refund Policy is now used by companies to compete with one another and to improve the customer experience, and they enjoy higher levels of customer trust than those without one.
As more businesses offer Refund Policy, customers will come to view them as a fundamental guarantee and won't be fixated on them, even though doing so incurs additional expenses for the business.
Are you required to have a Refund Policy? Why have one?
Yes, you are required to have a Refund Policy. However, there are no federal laws backing a need for such a policy.
Refund Policy is a bare minimum requirement for operating any business successfully in the modern-day marketplace. By enforcing consistency, it will assist you in providing excellent customer satisfaction and ease the handling of refunds.
For some businesses, the Refund Policy is included in their Terms and Conditions agreement or Master Service Agreement (MSA).
Here are a few reasons why you should have a Refund Policy for your business
Offers Legal Backing
When dealing with difficult customers, Refund Policy can come in handy. It can be used to curb excessiveness and extortion from customers.
It gives you the autonomy to finalize all sales at your own discretion.
Standardize Your Business
Having a Refund Policy means you engage in standard business operations.
With that, customers can choose how they want to do business with you thanks to your Refund Policy or to put it another way, your Refund Policy outlines what a customer can anticipate from you, when they make a purchase.
Builds Trust and Retain Customers
When a customer accesses your website or SaaS app, they expect to find a clear Refund Policy that outlines the rules of your business. When they are unsure if a Refund Policy will meet their needs, customers generally prefer not to buy.
A refund at this point will be a seal of trust and retain your customers.
Prevents Financial Loss and Liability
Should a customer want out of a business transaction, it would be unfair to take money from such a person for a service they never got, which could have been a result of any reason beyond their control.
Even though a refund request is mostly unsuitable for your business, giving back some amount of money will not hurt your overall business revenue. Rather, a Refund Policy can shield you from potential financial losses and liabilities while also saving you time.
It Serves as a Marketing Strategy
If properly incorporated, Refund Policy is a good marketing strategy that will increase sales and attract new customers to your business.
Manage Customer Expectations
A clear and easy-to-understand Refund Policy helps you manage customer expectations, it is a good way to prevent misunderstandings and future disputes.
So, before making a purchase, customers can get all the information they require, such as the length of time allotted for refunds, the processes involved, and any possible associated fees.
To prevent misunderstandings and future disputes, it is best to manage your customer's expectations from the outset.
What should a SaaS App Refund Policy contain/How to draft one
SaaS app requires you to overcome certain operational limitations.
Since it's a digital product, one of such limitations is that customers don't get to have a full grasp of your services until they have full access to all of its functionalities.
And should customers experience dissatisfaction with your service, it becomes difficult to separate the customer from the experience.
So it is important to have control over its usage because SaaS-related services and software apps are linked.
Writing a comprehensive, standard, and informative Refund Policy is necessary, given that anyone around the world can use your applications.
Since several SaaS apps are subscription-based, users have the option of opting out anytime. It's worthy of note that the Refund Policy for SaaS apps is very flexible.
Below are a few things to have in mind when drafting a Refund Policy for your SaaS app:
What items are refundable/which ones aren't
It's crucial to let customers know what items can be refunded or not in your SaaS app Refund Policy before they make any purchase. This will help them make informed decisions while paying for products or services.
For instance, eCommerce products such as fashion wear, packed food, and electrical gadgets are examples of refundable items.
See an example by Amazon.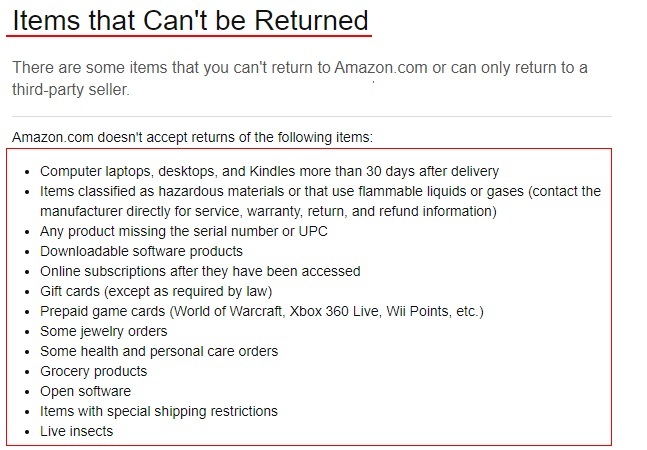 However, SaaS products are not refundable. Depending on several factors, a Refund Policy could allow customers to get partial, full, or no monetary refund.
That is because they are digital products and due to the nature of the services rendered, there is no way to undo already used services.
A good example is DropBox.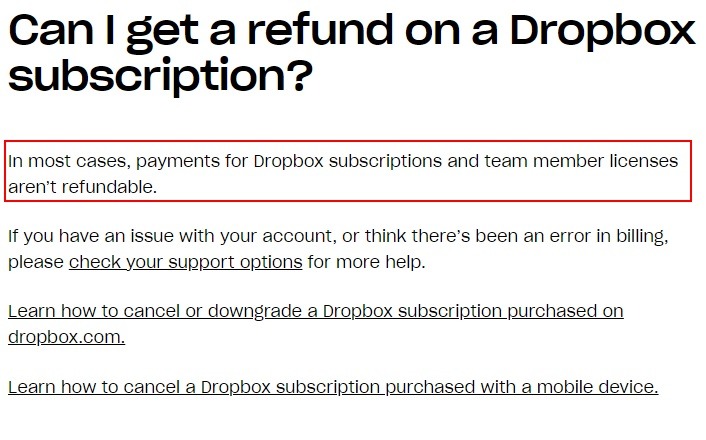 How to initiate a refund request
Your Refund Policy should outline adequate and easy-to-understand steps on how to initiate a request for a refund.
Make it concise, so customers will not be in the dark about what to do, when making a request.
One of the ways by which a refund could be initiated include via email and printed letter. Another is by having a dedicated customer support line(s).
YouTube has been able to do this well.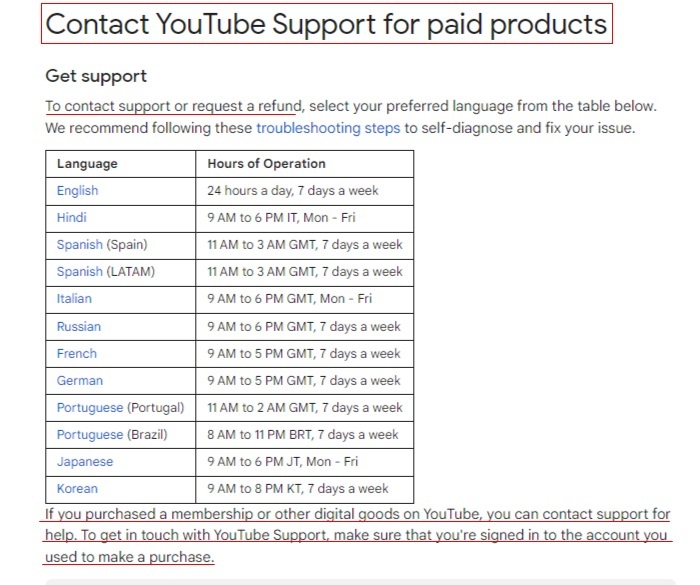 You can also offer a request form for refund processing.
Here is how Squarespace did its own.

Quick access to refund a request helps to improve your business credibility and shows transparency.
How long a refund may take
Customers should be aware of the time it will take to process a refund, and when they can expect to get refunded.
This will keep customers at peace and there won't be need for incessant disturbance or check ins.
To put it in context, no customer wants to wait for 3 - 6 months for a refund payment that was paid in a few minutes.
Therefore, all the requirements, and the possible number of days it will take you to examine, accept, and process a refund should be clearly stated in your Refund Policy.
What format the refund is issued in
Depending on your preference, your refund can be issued in any format.
It could be in the form of a store credit or a direct credit into the customer's account.
Most customers prefer the latter, because it means they will get their money back.
Here is how GameOn addresses this issue:

Other things commonly seen in such policies
Other clauses commonly seen in a Refund Policy include the following.
Trial Period
This is usually offered by subscription based SaaS apps.
It's common to see SaaS apps offering trial periods and always specifying it in their Refund Policy. So customers can have free and full access to the functions and features of the services before deciding to purchase a premium version or not.
Trial period often ranges from 7 - 30 days.
Cost of Shipping
Whenever a customer initiates a refund, it often means the goods will have to be transported back to the store/warehouse, thereby incurring more expenses for your business.
So your Refund Policy should state clearly who will pay for the item or product being refunded.
Since SaaS apps are digital products and services, there is no need for logistics or transportation. So no one needs to pay any shipping fees.
However, should the need ever arise for such fees to be paid, the customers are to cover the shipping cost.
Except for cases where the item received by the customer is broken, defective, or incorrect, then you will have to cover the cost.
How to Display a Refund Policy
Drafting a good Refund Policy is not enough, it should be easily visible by your customers.
Since the policy is for them, it shouldn't be difficult to locate whenever they are on your site.
Below are some strategic locations where you can display it.
Linked to a Terms and Conditions agreement
Since most of the refund clauses are contained in the Terms and Conditions agreement section of your business, a link to your Refund Policy should also be included.
With a click, customers can conveniently review your policy before they make a purchase from you.
Therefore, if your SaaS app has a standalone Refund Policy, you should always link it to the Terms and Conditions agreement.
This is the approach used by Zara.

Adidas is another business that does this so well.

Linked in a website footer
The website footer is another good position to place a link to your SaaS Refund Policy. Customers can easily browse and read through while on your website.
It is mostly used by e-commerce stores or other businesses.
Here's an example from Asos: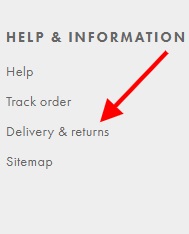 On the checkout page
Another critical location to display your Refund Policy is the checkout page on your business website.
On the checkout page it becomes very difficult for customers not to see the policy before the checkout process is done.
This is how Marks and Spencer did it.

Summary
As a software owner and service provider, having a SaaS app Refund Policy is a necessity for the success and smooth running of your business. It should be clear, concise, lawful, and easily accessible by your present and potential customers.
Your SaaS app Refund Policy should include the following:
What items are refundable/which ones aren't
How to initiate a refund request
How long a refund may take
What format the refund is issued in
Other things commonly seen in such policies
To display your Refund Policy, it can be part of your Terms and Conditions agreement, or it can be linked to your website footer, or displayed on the checkout page.