Sample Return & Refund Policy Template
Our Return & Refund Policy template lets you get started with a Return and Refund Policy agreement. This template is free to download and use.
According to a TrueShip study, over 60% of customers review a Return and Refund Policy before they make a purchasing decision.
It's the single most important agreement your ecommerce store needs to have as it can affect your retention rate.
What is a Return and Refund Policy
A Return and Refund Policy is the agreement where you inform customers about your policies regarding returns and refunds.
It usually includes the following pieces of information:
How many days they have to return a product
How will they receive the refund (credit or replacement)
If you offer refunds for digital products or in-app purchases
Who pays for shipping to return the product
And so on
Why use a Return and Refund Policy
Most ecommerce stores should have a Return or Refund Policy. This includes retail stores as well.
Customers must be informed about their rights to refunds. This "policy" is the page where businesses inform customers about their policy on return and refunds.
The Policy is part of the 3 legal agreements your ecommerce business should have:
The Return and Refund Policy - Use this agreement to inform users about your policy on returns and refunds.

The "Privacy Policy" agreement - This is required by law.Use this agreement to inform users about your privacy practices and what kind of personal data you collect from users.

If you collect any kind of personal data from your users (e.g. email addresses, first and last names), you're required by law to have this agreement.

The Terms and Conditions agreement. - This is optional but recommended. Use this agreement to set the rules and guidelines for users when they register an account with you.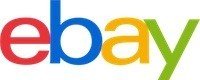 eBay's help pages mention that stores with return policies published online will sell better. However, eBay requires all stores to have this policy:
We've found that items with clear return policies typically sell better than items that don't.
What to include in Return/Refund Policy
Your Return Policy or Refund Policy should include at least the following sections:
The numbers of days a customer can notify you for wanting to return an item after they received it
What kind of refund you will give to the customer after the item is returned: another similar product, a store credit, etc.
Who will pay for the return shipping
If you sell digital products, the Policy should include the following sections:
If you offer refunds on digital purchases
If you offer refunds in limited cases, e.g. download link wasn't working
The best Policy you can have is the simplest one. Here's what a policy based on the above tips will look like:
If you are not 100% satisfied with your purchase, you can return the product and get a full refund or exchange the product for another one, be it similar or not.

You can return a product for up to 30 days from the date you purchased it.

Any product you return must be in the same condition you received it and in the original packaging. Please keep the receipt.

The U.S. store of Apple has a more detailed return & refund policy:

It covers these sections, but its full policy on sales and refunds is more detailed:
Standard Return Policy
Ship your item back to Apple
Refunds or Exchange an item
Return a gift or Gift refunds

IKEA says that "It's ok to change your mind" on their U.S. store return policy:

IKEA's policy covers:
In Store Purchases
Online or Phone Purchases and Mattresses "Love it or Exchange it"

The Returns & Refunds page of Amazon is more comprehensive as it groups everything into 3 sections: Returns, Refunds and Exchanges.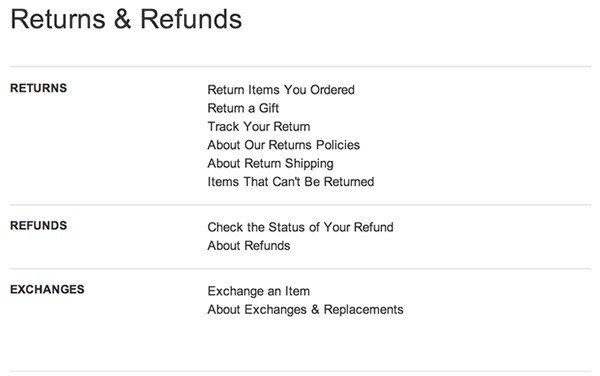 Amazon can connect the account users used to make a purchase to their Refund Status dashboard, users can check their refund status by following a few instructions once they are logged into their account.
Examples of Return and Refund Policies
FiftyThree

FiftyThree's Pencil has a 30-days refund policy: customers can buy the product, try it and if they are unsatisfied, they can return it within 30 days. FiftyThree will offer either a refund or a replacement.

FiftyThree doesn't have their Return and Refund Policy named like this, but it's called a Pencil Guarantee instead. It specifies the exact terms in which returns and refunds are processed:
Customers have up to 30 days to ask for a refund
A Return Merchandise Authorization (RMA) must be requested
The serial number of the Pencil must be verified first
FiftyThree will pay for any shipping involved (with exceptions)
Refunds are credited back to customers' Visa, MasterCard or American Express credit/debit cards
While the 30-days refund policy is available on the Pencil's product page, the "Pencil Guarantee" page is placed in the footer, but only available if the user clicks on the link named Legal first:

And then clicks on FiftyThree's Shop Guarantee: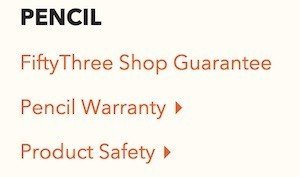 Calm the Ham

Calm the Ham's policy on returns and refunds is available if the user clicks on the "Shop Policy" link from the footer:

Calm the Ham's Return and Refund Policy is very simple:

If you are not 100% satisfied with your purchase, simply send it back within 14 days and we'll refund the full cost of the item minus shipping costs.
Greats

Greats places their Return and Exchange Policy in their Terms of Use page, but their footer also has a Returns or Exchanges link that might confuse customers: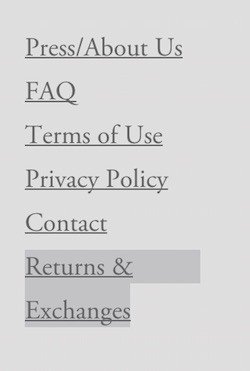 Their Return and Exchange Policy details what does a customer must do to return a product within 21 days of purchase: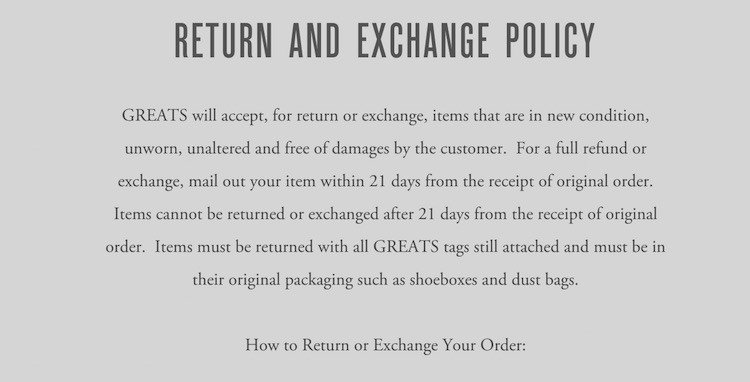 ThemeForest

ThemeForest sells digital products and they place their policy on returns and refunds in the "Envato Market Terms" page:

Given the nature of downloadable digital items, we do not generally offer a refund or credit on a purchase unless required under Australian consumer law or other relevant consumer protection laws.
The Envato Market Terms page is linked from the footer of their website: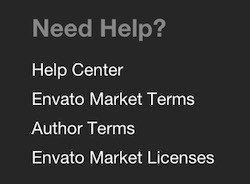 Booking.com

The Booking.com iOS mobile app doesn't have a separate policy on refunds, but their policy on refunds depends on the policy of refunds of each hotel chain that has listed on Booking.com.
Booking.com owns the platform, but the policy on refunds depends on the hotel. This is specified in their Terms and Conditions page:

Sometimes cheaper rates are available on our website for a specific stay at a property, however, these rates made by accommodations providers may carry special restrictions and conditions, for example in respect to cancellation and refund. Please check the room and rate details thoroughly for any such conditions prior to making your reservation.
WizzAir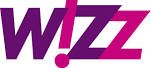 WizzAir lets you search and buy flight reservations through its mobile app. WizzAir doesn't have a Return and Refund Policy like most e-commerce stores would, but their General Conditions of Carriage page is informing customers about their rights to refunds.
The "General Conditions of Carriage" document is the agreement that each user must agree to in order to buy a ticket through WizzAir's mobile app:
User selects the flight's price and must click I accept in order to continue

If user clicks Read terms, the user can read the linked legal agreements (including its General Conditions of Carriage)
The "General Conditions of Carriage" is embedded from WizzAir's servers: