Terms & Conditions for Memberships
Terms and Conditions (T&C), also called Terms of Use or Terms of Service, are often necessary for websites and mobile apps. This is especially true if your website or app involves a membership or has subscription plans.
In many cases, there are more rules and guidelines that come with a membership and the only way you can make them clear to the user is with a good Terms and Conditions agreement.
This article explains why your membership program needs a Terms and Conditions agreement and how you can create your own.
Why your Membership Needs a Terms and Conditions Agreement
Companies approach the issue of a membership's Terms and Conditions agreement differently.
It's not unusual to find a company that has separate Terms and Conditions for the membership and a general Terms and Conditions.
Businesses with a membership model can often get away with one Terms and Conditions agreement without even putting "membership" in the agreement's title.
No matter the circumstances, the reasons for needing a Terms and Conditions for a membership are about the same:
Rules and guidelines
Websites and apps that have members often offer more complex services.
If you think about it, hospitality clubs, fitness centers, and even publishing platforms require a commitment.
Rules are also necessary in order to create a vibrant and productive community.
This is especially true if your website or app facilitates user interaction. Rules of conduct and community standards are necessary to determine appropriate behavior and communication.

Zoopla, which facilitates property buying in the U.K., in its Member Terms and Conditions page, describes preferred conduct in listing, communication, and authorized users: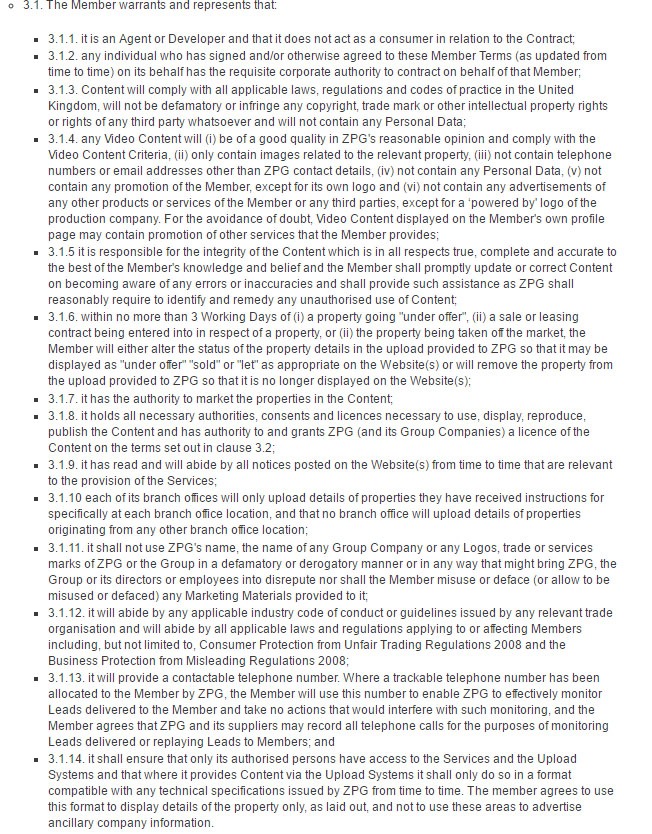 Other websites, like Ancestry.com, makes references to separate community standards and user conduct documents in its Terms and Conditions agreement: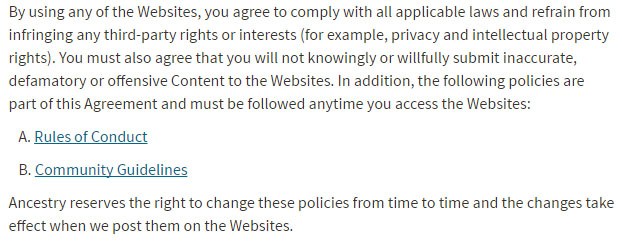 If you run a publishing platform or a marketplace for graphics, you need rules regarding copyright protection and user-provided material. You find this in marketplace platforms, like Envato Marketplace.
Its "Market Terms" page (the title Envato gives to its Membership Terms and Conditions agreement), it mentions some conduct-based standards but also copyright protection: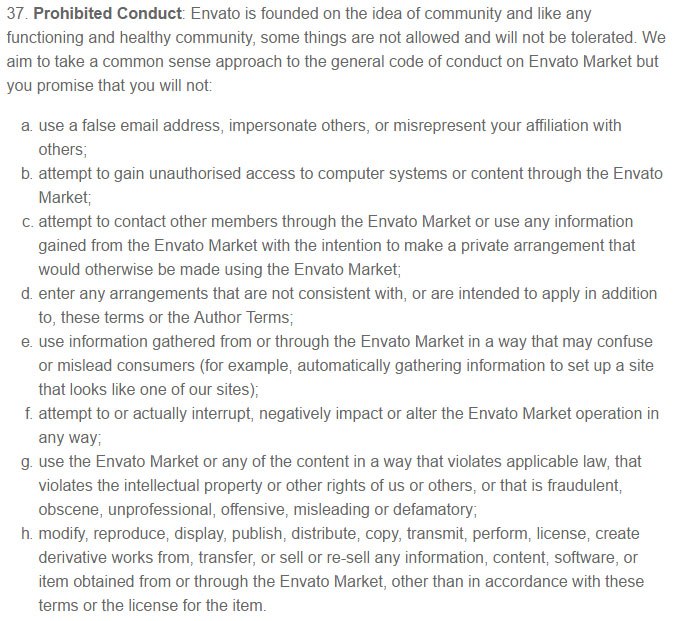 Another common rule are the ages of participants. You cannot make payment contracts with minors and in the U.S., those under 13 years old are subject to enhance privacy protection.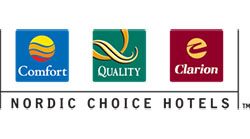 Nordic Choice Hotels limits the membership of its reward program by age and allows only personal (as opposed to business) accounts:


Envato Marketplace also places age limits for members and anyone who browses its products along with other membership standards: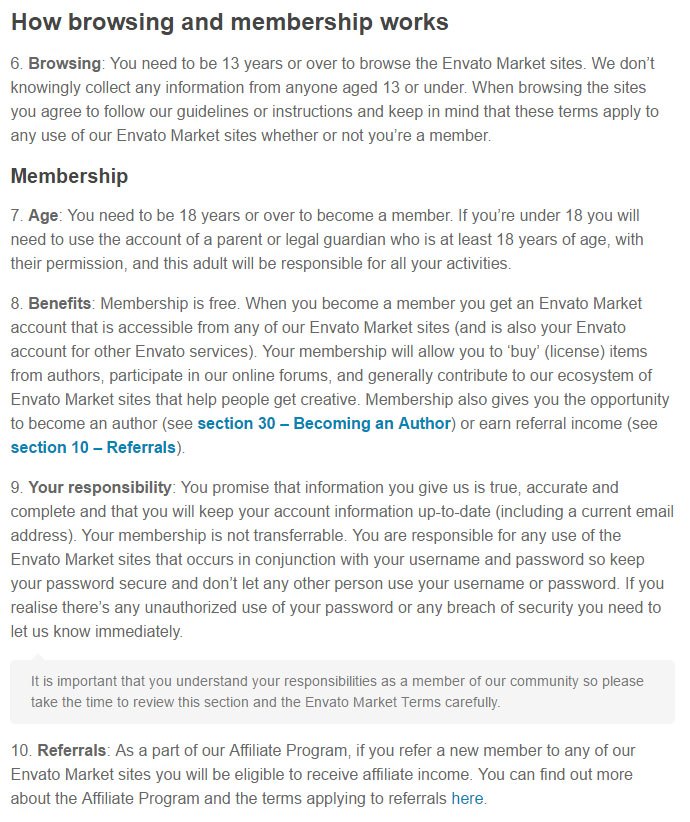 Payment terms
There are membership websites like Envato Market that do not charge a subscription fee for using the website.
Envato Market, for example, takes a cut from sales completed on its site. However, other websites or apps (SaaS apps) may request annual or monthly fees.
The legal terms (usually referred to as payment terms) in this area focus on how the fees are paid and how often. If a user is required to submit credit card information as a condition to membership, this is described in the "Payment" section.

For example, Ancestry.com has subscription terms based on its monthly service fees: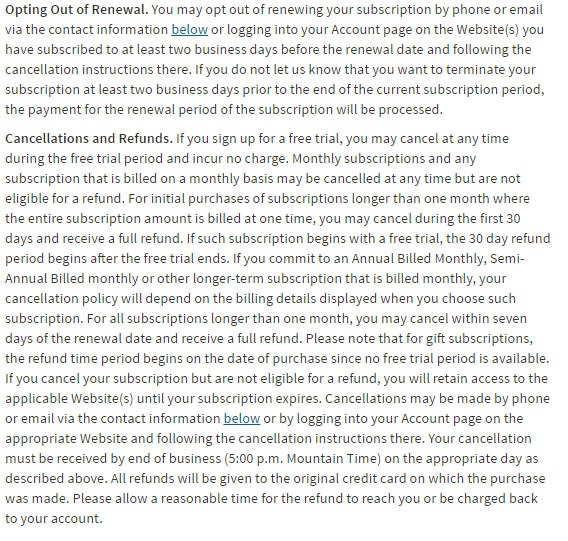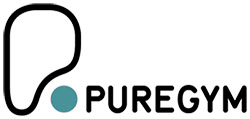 Gym memberships that involve online sign-up and partner apps also contain very clear payment terms. Pure Gym offers that plus any consequences for failed payments: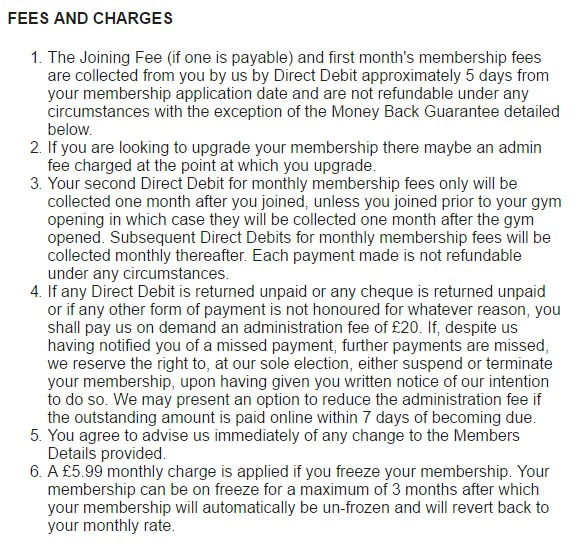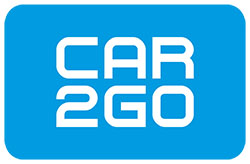 Car2go follows this model too with clear payment terms in its agreement and a reference to using collection services too. As specific to its industry, it also makes it clear that any traffic tickets incurred while using a vehicle will be the responsibility of the driver: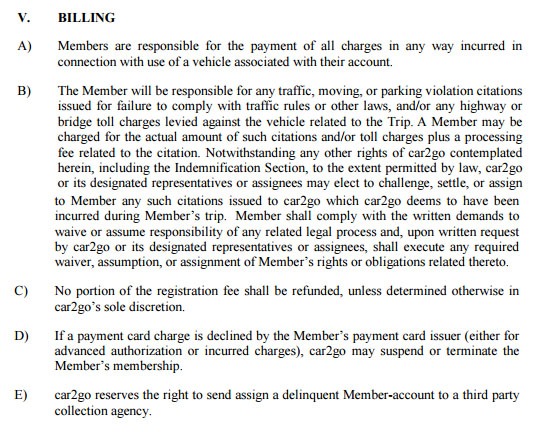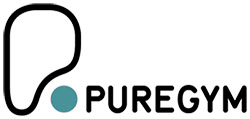 You must also cover price changes. Pure Gym indicates that it can increase prices unilaterally but will give notice to customers:

Termination
Failure to pay is not the only reason to terminate a membership. Conduct also leads to that result.
If you have a community, discouraging harassment is essential to the community's health.
Also, if your platform allows for the exchange of photos, stories, graphics, and other intellectual property, you want to have the means to expel members who violate copyright protection or sell unauthorized items.
A general termination clause broadly lists reasons for termination, like failure to pay or follow the membership Terms and Conditions.

That is the approach adopted by Envato: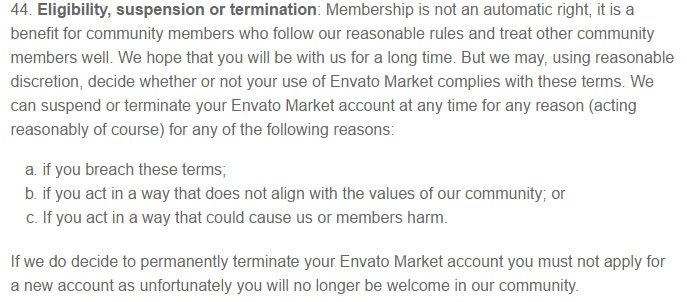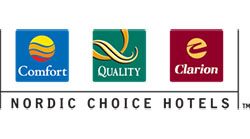 Nordic Choice is more specific in the termination clause in its agreement. Since its service is not limited to online interaction but also in-person exchanges as customers use hotels, it also applies standards of conduct:

Your termination clause can reflect specific company values, industry standards, and the unique offerings of your membership.
As you can see, membership scenarios bring in an extra layer of complexity.
While a general Terms and Conditions could be modified slightly and used for a similar industry, the situation is not nearly as simple with memberships. That is due to it being molded to a specific business model or function.
One of these areas includes the membership process. Gaining a membership with Ancestry.com or Envato is a matter of signing up online. The only qualifications include providing a credit card or products to sell. There is no screening and if there are conduct violations, those are dealt with as they arise.
A service like car2go is different. There is an application process that not only involves providing names, personal information, and payment information, but also other checks: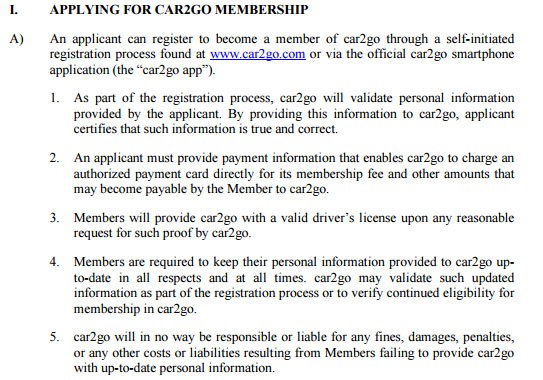 Once a membership is set up, the membership T&C also contains a section called "Driving Privileges." Like community guidelines or rules of conduct, these are conditions for maintaining the membership: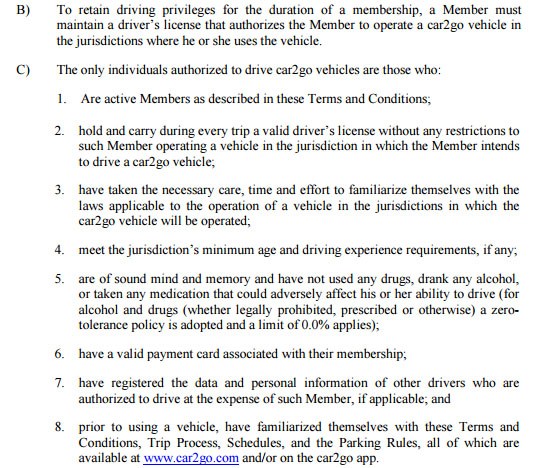 Checklist for a membership T&C
While the content of your membership Terms and Conditions will vary from other websites or apps, there are general sections that you need to include.
This checklist will help you customize these sections and assure you do not miss essential details to add in your Terms and Conditions.
Rules for use
Community guidelines and rules of conduct can generally fall under "rules of use":
If you have any prohibited practices in your service, like using protected material, you need to mention - even if you think it is obvious.
Likewise, if your community limits the use of offensive language or has a no-tolerance policy towards harassment, those must be in your rules of use as well.
Include required ages for users and offer protocol that confirms ages. There are different privacy protections for those under age 13 (COPPA in the US, for example) and making a payment contract with a user who is not yet 18 can make those terms unenforceable.
Data protection
Memberships are personal.
There needs to be extra assurance for data protection. You may also have a Privacy Policy posted but adding language about data protection and confidentiality is also helpful.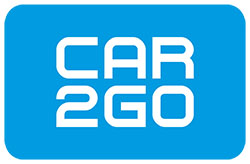 Car2go has a short and broad data protection clause. It assures users that it will comply with the laws and stay with its own Privacy Policy:


Zoopla contains a confidentiality clause in its agreement to offer reassurance information exchanged on its website or apps remains protected:

This is a short paragraph that states your agreement to keep data safe. You can make it independent or simply refer to your Privacy Policy agreement.
Termination
Your Terms and Conditions agreement should be specific to termination of membership.
Payment failure is one reason but so are reasons connected with use and conduct. Leaving out this section can expose you to liability in two ways:
One, a former member could argue that terminating their access to your service was not justified. If they suffer losses from their lack of membership, you could be held civilly liable.
Second, failure to protect others from some conduct could also lead to liability, especially if members did not feel safe with others or their behavior affects using your app or service productively.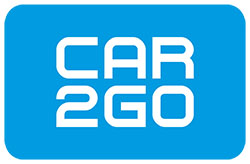 Car2go offers a long suspension and termination section. Losing a license or excessive traffic tickets are among the reasons. You will also notice that the section indicates that these are also reasons to deny an application: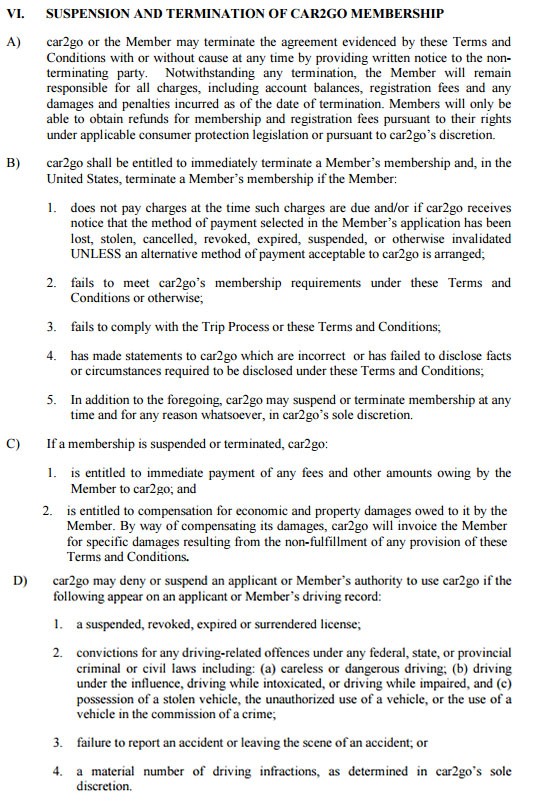 Your termination clauses should be specific to your service and the risks associated with it.
Payment terms
Your payment terms should include:
The price of membership. If the service is free, mention that specifically but if there are payments through commissions, describe that.
Administrative fees. Services paid through bank drafts often incur service fees when payments are returned unpaid. Make that clear in your agreement.
Collection terms. If you add late fees or additional ones when an account is referred to outside collections, add that language under payment terms.
Termination of membership upon nonpayment. List any grace periods if you allow them but make it clear that if fees are unpaid, the membership is canceled.
Price changes. You can unilaterally make price changes and should mention that in your agreement. However, also describe how customers get notice of the change whether that is through email, website announcements or push notifications on apps.
Cancellation. Include instructions and an email for notices regarding customers who wish to cancel the service and avoid additional charges.
Many websites and apps, especially SaaS apps, offer free trials where a user can try out the service for a set period with billing at the end.

Ancestry.com offers trial periods and also indicates that the user must opt out to avoid charges: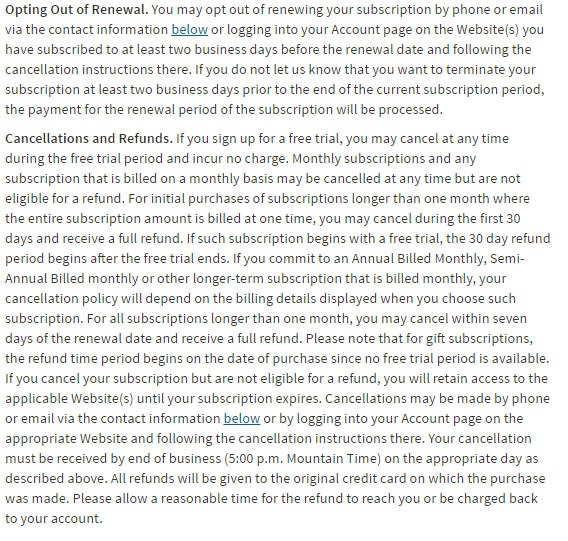 Changes to membership terms
Add a statement allowing you to unilaterally change the terms. This is often the amendment clause in a Terms and Conditions.
Just as with a Terms and Conditions and a Privacy Policy, you never know when new laws or a change of circumstances requires that you modify your rules on membership.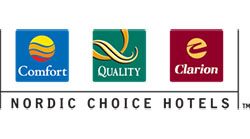 This can be a quick paragraph, like this example from Nordic Choice:

Just like with any other legal agreements, you need to notify users when this occurs.
Liability disclaimers
Finally, include liability disclaimers in your membership Terms and Conditions. These are frequently long but also fairly general.

Ancestry.com uses one like this: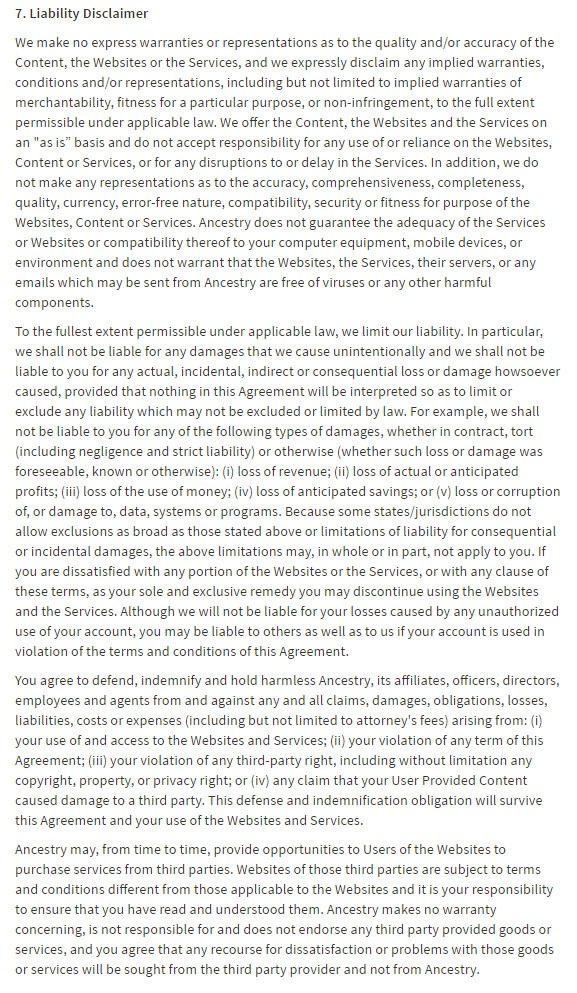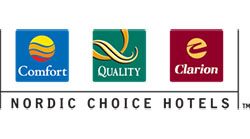 Nordic Choice deals with a condition unique to its industry: hotels leaving its network. When this occurs, users of the rewards program are no longer able to collect on those bonuses.
In its liability disclaimer, Nordic Choice indicates that this is out of its control and it is not liable for damages. It also includes instructions for cancellation if users become dissatisfied with the program: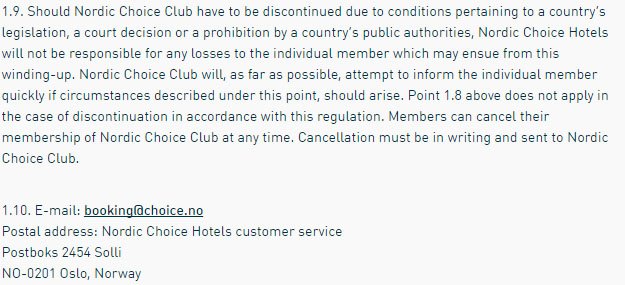 You can use this kind of section in a Terms and Conditions for general disclaimers but also address risks specific to your business model or industry.
It's important in the Terms and Conditions, including any other agreements built around memberships, to clarify where you are not responsible.