Retail Store Policies
While online shopping is more popular than ever these days and is showing no sign of slowing down, physical retail stores are still an important and integral part of our shopping experience.
It may be more convenient to shop online from the comfort of your own home, without having to deal with crowds and lines and being able to shop across dozens of websites in just a few minutes to find the best price and perfect item.
However, there's something about that in-person shopping experience - getting to actually see something or try something on our out before you buy it - that makes retail stores timeless and here to stay.
If you operate a retail store where you're selling physical items to the public, either in person or via an e-commerce website as well, you'll need a series of legal agreements in place available to the public.
Online stores can accomplish this by including links to their legal agreements on their websites and within their mobile apps. The website footer is a commonplace to link to these legal agreements.
Note how Apple includes numerous links to a range of its legal agreements within the footer section of its web pages:

Retail stores may encounter customers who ask a sales associate or other in-person store employee for some legal agreement information while shopping, such as what the store's return policy is, or what the payment terms are when paying with a store credit card versus cash.
In these situations, it's easiest when you can refer these inquiring customers to your store's website where these policies can be hosted and accessed from.
If you don't want to have an e-commerce store where users can shop for your goods online, you can still create a simple website solely for hosting the legal agreements and sharing them with your shoppers who may wish to read them.
You can also post information about the legal agreements in places where visitors to your physical store will notice them, e.g. on the receipt etc.
For example, it's common practice to include information about the Return Policy on every printed receipt or to post any Terms and Conditions of purchasing, such as credit card/payment policies or returned check policies near the register.
The legal policies of a retail store
Regardless of how you provide these agreements to your customers, and regardless of whether your business has only a retail store or both a retail and online store, your business may need the following legal agreements:
Privacy Policy
You'll most likely need to have a Privacy Policy agreement if your business collects any personal information from shoppers:
Whether your retail website asks users to enter their email addresses or phone numbers
Or whether your physical store asks shoppers for an email address in person when they're completing their transaction at the registers
And so on
If you ask users for an email address, make sure that any emails you send them has a link to your Privacy Policy, as well as a method for unsubscribing.
Placing a link to your legal agreement in each commercial email you send to customers can be an adequate way to get your Privacy Policy agreement in front of these individuals whose personal information you collect.
Here's the footer section at the bottom of every email that Shopko sends to customers who have provided their email addresses for Shopko's email newsletter. Note how the link to the Privacy Policy of Shopko is conspicuously placed:

Create a simple website to host and link to your Privacy Policy and other legal agreements so that when a customer clicks on the link from any of your emails, the customer will be taken to that legal page.
Ecommerce stores include links to their Privacy Policies at the time when the user is prompted to enter her/his email address.
For example, Gap offers a texting notification service so you can receive texts about sales and promotions. Note how a link to Gap's Privacy Policy is included close to the instructions for how to sign up for this text program since a user's phone number will be collected and used by Gap upon signing up: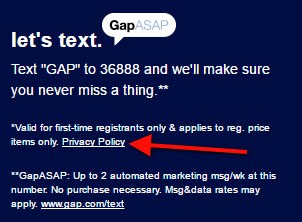 Walmart's website lets users sign up for email alerts about sales and promotions. Right next to the "Sign up" button is a link to the Walmart's Privacy Policy page. This makes it easy for users to notice and access the agreement:

Terms and Conditions
Terms and Conditions agreements are very helpful for protecting your business and letting customers know what is expected of them.
Terms and Conditions for e-commerce stores typically include clauses that give a business the right to terminate an account with a customer if certain conditions aren't met or if violations occur, and that limit the way a customer can interact with the business.
You can typically allow customers to create accounts on your website for quicker online shopping, order management and tracking, and things like loyalty and rewards points for shopping regularly.
If your store has these features or allows users to create accounts online where they can log in and interact with your website, including a Terms and Conditions agreement may allow you to:
Include a link to your Terms and Conditions somewhere where a customer can easily find it, such as in the website footer, as seen below with the "Online Terms" of Shopko linked in the footer located on every page of the website:

This type of legal agreement can be useful for stores that offer coupons, discounts, sales, gift card programs, and loyalty/reward programs to users who shop in-store.
If you offer a weekly flyer with sales and coupons, consider including a short Terms and Conditions in your flyer and refer to these terms on any printed coupons.
When customers sign up for your loyalty/reward program, make sure they're provided with a copy of the Terms and Conditions of the loyalty program.
You can either provide a hard copy if you don't have an online presence, or, the easiest way would be to simply refer these customers to your website where the agreements are hosted and can be accessed from.
Shopko has a separate "Loyalty Program Terms and Conditions" page agreement that's linked along with other legal agreements. While separating legal information about your loyalty program from your main Terms and Conditions isn't necessary, it's an option you can consider and helps make things clearer for your customers.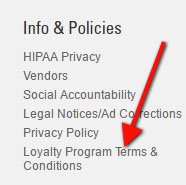 For gift cards, include a hard copy of the legal agreement attached to the card or include a summary of all pertinent information in small print on the back of the card.
Here's an example from the back of a John Lewis gift card that lists out the different "Terms" of the card, including information about how and where the card can be used, what happens in the event that the card is lost or stolen, expiration information, and a link to the full Terms and Conditions that's available online: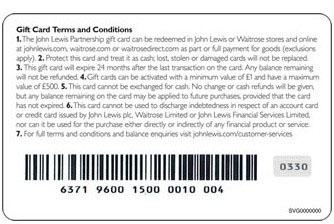 Here's another example from The Bass Pro Shop that shows how the Terms & Conditions that can be included on the back of a gift card, and how it can be referenced to a link online: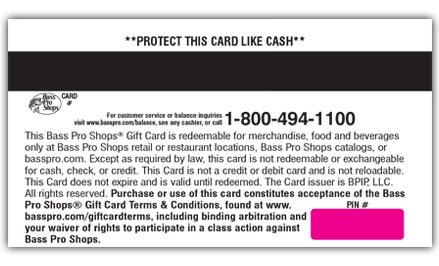 E-gift cards can include a link to any terms or conditions that you host online when the digital gift card is mailed to the recipient.
Return/Refund Policy
Return and Refund Policies can differ drastically from store to store, from no refunds whatsoever, so full refunds up to years after purchase, and everything in between.
Some Return/Refund Policies describe stocking fees for returned merchandise or a time limit on all returns. Some don't allow returns of sale items or items in certain departments.
Because of this range of policies from store to store, this is always something your customers will want to know about, especially if shopping online where it's more difficult to get an actual representation of an item or try on something to see if it actually fits.
It's important to make it clear to shoppers what rights and options they have when it comes to returning an item and getting a refund.
While returns/refunds aren't legally require in the US (UK, Europe and other countries have different requirements - unless there's an actual misrepresentation by the business about the product, many businesses offer the ability to return an item for a refund out of a customer courtesy, and to attract and keep customers.
Stores commonly print the information of return/refund somewhere on their receipts.
Pah and Mah Jongg includes their short Return Policy towards the top of every receipt, including conditions for when items can be returned, and any exclusions: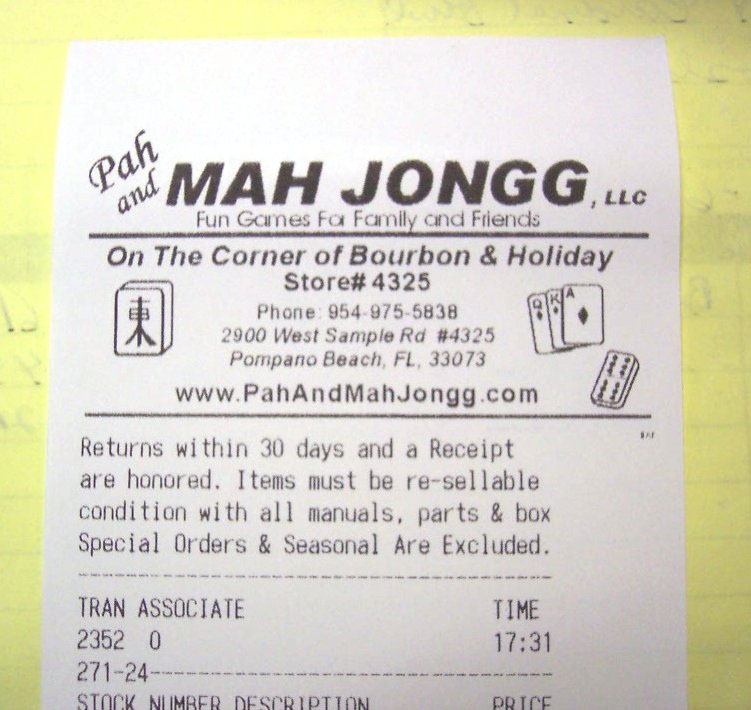 Old Navy also includes return information on its receipt and references OldNavy.com website to find other terms and conditions and complete details on the policy.
This is a good way to get the basics of your policy across in-store, and still refer users to your online presence and full legal agreements: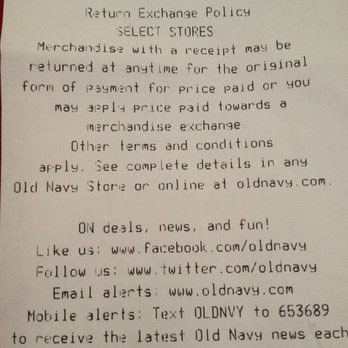 Stores with a strict no returns/no refunds policy also tend to keep a small notice near the register to let customers know that once they complete this purchase, they cannot reverse it.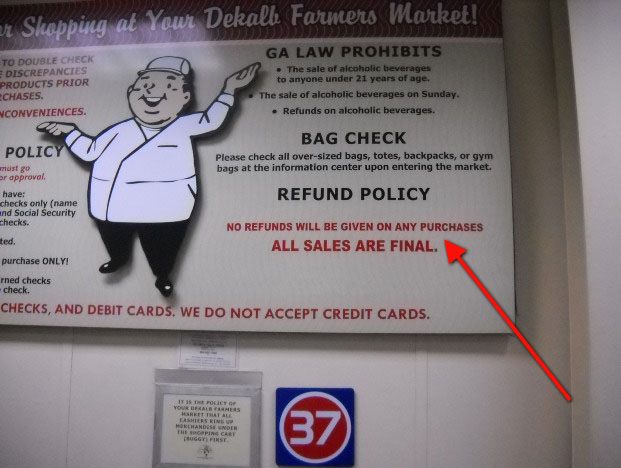 For e-commerce stores, you can include a link to your Return/Refund Policy along with all of your other legal agreements. Some businesses separate this type of policy into its own policy (thus, a new page), while others choose to include a "Return & Refund" section within the Terms and Conditions agreement of the store.
Either method could acceptable. If your online store does very large volumes of transactions or has a complex or very limited return policy, you may want to separate it out just to make sure customers notice it better and you have fewer people purchasing without being aware of your rules on returns/refunds.
This will help keep your customers happier and will be less of a hassle for you to deal with.
Here's how Gap includes a link to detailed information about returns of items in the footer of their website for easy customer access: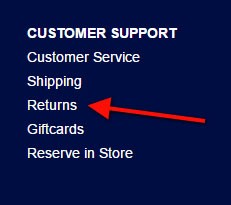 A customer will be taken to a very useful section about returning and exchanging items purchased on the Gap website: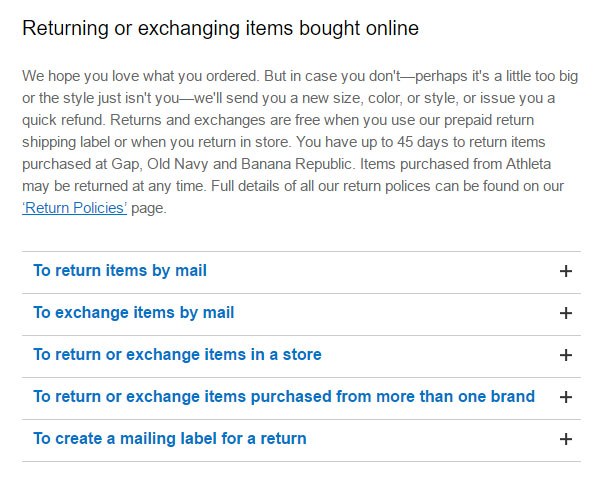 Warranty Disclaimer
If you're a manufacturer of what you sell in your store or online store, you may be legally required to uphold some warranties to your customers regarding the fitness of your goods.
However, if you're a reseller of goods that you do not manufacture, you have the ability to disclaim all warranties on the goods you sell, including any implied warranty.
This is important to do as a reseller so that you can't be held legally liable for manufacturing defects or issues, or customer expectations that go unmet.
This can play a huge role in circumstances where goods are potentially dangerous and must be recalled by the manufacturer.
By you disclaiming any and all warranties, as well as explicitly and conspicuously disclaiming any implied warranty, you cannot be held legally liable for any injuries or damage that result from the faulty good that you sold. The manufacturer will be held solely liable.
For a retail store without an online presence, the receipt is a great place to print short notices, such as a disclaimer of all warranties including an implied warranty.
This makes it noticeable and available to customers. Another method is to place an "As Is" sign near the register or entrances that customers will notice: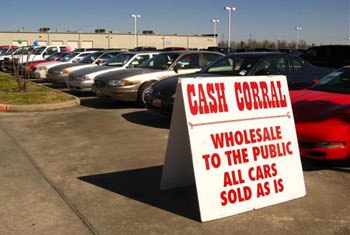 E-commerce businesses tend to include this type of information within a clause towards the end of their Terms and Conditions agreement.
Walmart includes the following disclaimer in its Terms of Use. All warranties, express or implied, are disclaimed on both the website and merchandise, and an "As Is" notice is given: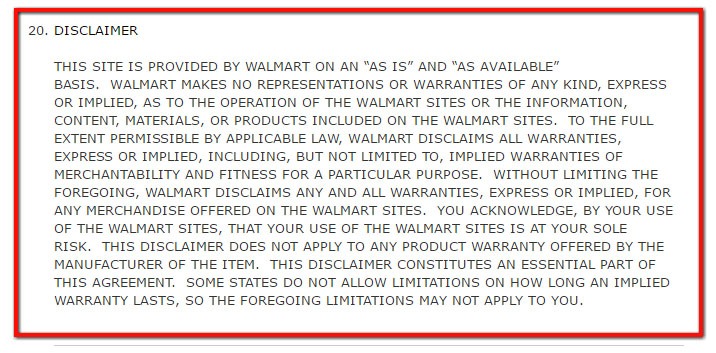 Regardless of whether your store is just brick and mortar, or has a retail store as well as an online e-commerce component, there are legal agreements that you must have in place and accessible to your customers to protect your business and stay compliant with legal requirements.