Ecommerce Terms and Conditions Template
---
If you run an e-commerce store, it's important that you have a well-drafted Terms and Conditions agreement linked throughout your store.
Terms and Conditions agreements can help legally protect you as well as set out the rules that you and your customers will follow, limit your liability in the event that your product fails, and cover what to do if any legal conflicts arise.
But why are Terms and Conditions agreements important?
These agreements may not seem important for your store, as most regular (offline) stores don't hand them out to customers as they walk through the door.
Nonetheless, having this agreement for your e-commerce store is crucial for a number of reasons:
They protect you from liability and clarify the purchasing process
They can be used to cancel accounts that do not comply with your terms
They protect your store's intellectual property and set out rules as to how it can be used
They set out the way in which any disputes will be handled
Contents of the Terms and Conditions
Some very important sections for an e-commerce store to include in its Terms and Conditions agreement are:
A limitation of liability clause relating to your products
Intellectual property terms relating to your store brand
A limitation of liability clause relating to your products
A payment terms clause
A delivery clause
A returns and refunds clause
Limit your liability
It's particularly important to highlight any indemnity terms or terms where you exclude or limit your liability. Take particular care making sure that those terms are not ambiguous in any way.
In the United Kingdom, the 2014 Tayside Contracts case looked at some clauses that excluded and limited liability.
Tayside Contracts was doing business with D Geddes (Contractors) Limited for some stone chippings used to build roads, on D Geddes' terms. Several months after the stone chippings were used, the roads started breaking. In their terms, D Geddes had one section limiting their liability to the value of the materials they supplied, but in the next section, they tried to exclude their liability completely.
The Court noted that "clauses that seek to exclude liability are subjected to close scrutiny," and that they must be "clear and unambiguous." The Court concluded that it was unclear whether D Geddes were excluding liability completely, or were limiting liability to the value of the materials.
As a result, the Court held that the sections were too vague, and could not be relied upon. D Geddes was then liable for all of the losses suffered by Tayside Contracts.
Here's an example from the terms of Apple iTunes showing their limitation of liability clause: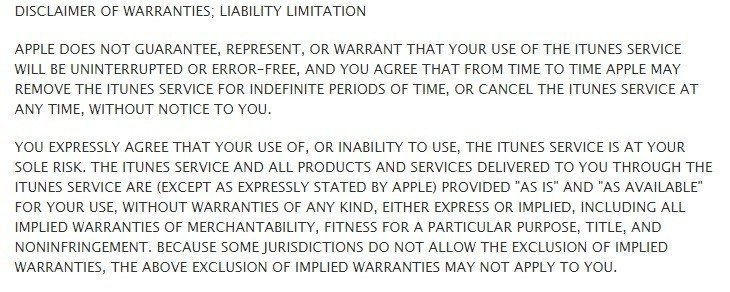 You can see that Apple's limitation of liability terms are very clear, and outline all the potential situations where liability could arise. Also note that these terms are printed in capital letters (the rest of Apple's Terms are printed in lowercase). This is one way that you can draw terms like this to the attention of your customers.
In an e-commerce store, your limitation of liability clauses will depend on what goods you're selling.
If you're selling clothing and your product fails, the risk of your customers suffering losses is low.
On the other hand, if your e-commerce store sells emergency supplies or rock climbing gear, the risks are significantly higher in terms of liability if a product is faulty.
Your Terms and Conditions should reflect those risks, and cover your potential liability accordingly.
Intellectual Property
These clauses are important for ensuring that your intellectual property such as brands or trademarks are not misused in any way. Here's another example from Apple iTunes showing their Intellectual Property clause:

You can see in the example above the company first set out what things are owned by Apple and protected by intellectual property laws. It's furthermore stated that the customer cannot use, modify, sell, or create derivative works from those materials in any way (among other things), except if otherwise permitted by the Terms.
It's important to include a term like this in your e-commerce store's Terms and Conditions to protect your store brand.
If you allow user-generated content like image uploads, interactive user accounts or a social forum for your shoppers, you should address this here as well.
Products, warranties, and delivery
It's also essential to set out clear terms on how your products can be purchased, any restrictions, and what happens if you cannot supply something.
Some stores include their warranty information as part of their Terms and Conditions, while others include a separate Warranty Policy.
Here's an example from Myer in Australia on how they deal with orders for goods: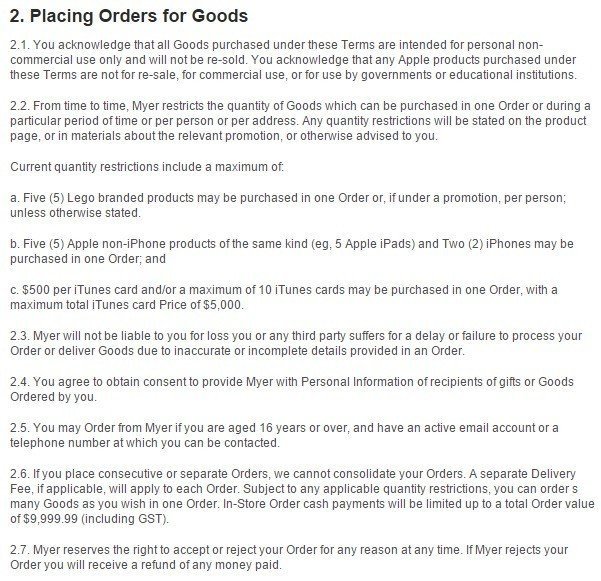 You can see that they place some restrictions on what goods can be purchased at certain times, and they reserve the right to reject orders for any reason at any time (with a refund).
Terms like this can protect you from supply shortages or circumstances in which you can't supply something to one of your customers for some reason.
Here's an example from Sheet Street where they have included their warranty within their agreement.

Your Terms and Conditions agreement should also include:
Your supplier information, such as company name, place of registration, address for service, and tax details such as US Sales Tax ID number, or GST/VAT registration number
A link to your other policies (Privacy Policy, Returns and Refunds Policy, Cookies Policy)
Dispute Resolution information (e.g. arbitration, mediation)
Jurisdiction (applicable laws and the jurisdiction in which any court claims can be made)
User behavior can also be a very important clause to cover for your store, as it means that if a user infringes or violates this section you can remove their account and stop them from using your store.
Have a look at this example from Screencastify: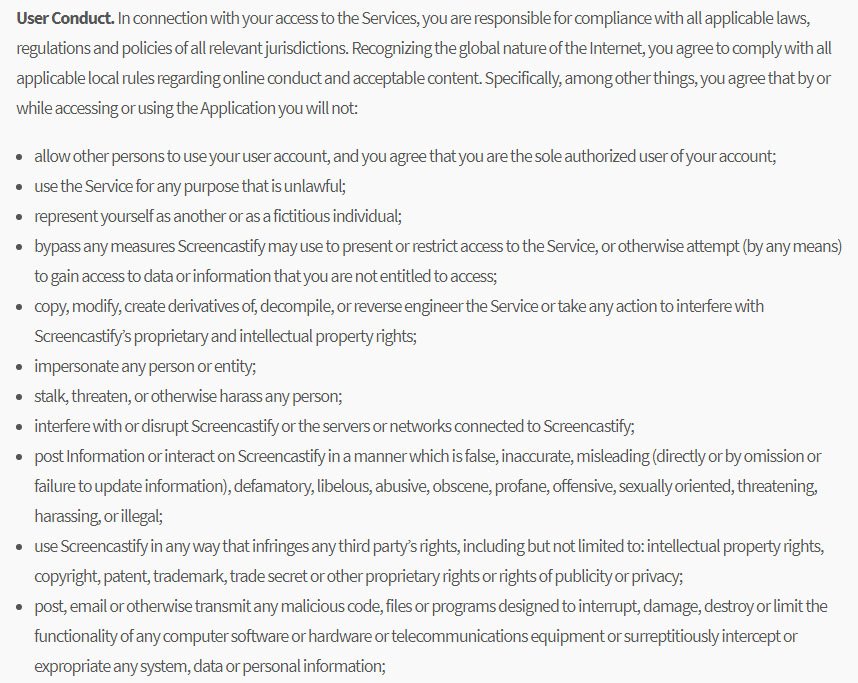 Payment details are another important clause to cover. Your store will most likely use a variety of payment methods, such as credit card, debit card, and PayPal. Some stores even allow direct deposit.
No matter which payment methods you allow, your agreement should outline the different payment methods that you accept, when payment is required, what currency your prices are in, and any other information about payment details that you can provide your customers. This is to make sure that there is no confusion when your customers are paying for your products.
Always remember that one size doesn't fit all, and your Terms and Conditions need to be tailored to your unique e-commerce store's needs.
Where to display the agreement
Now that we've covered what clauses you need, it's important to understand that your agreements need to be visible.
Most websites display their Terms and Conditions agreement at the bottom of each page, as well as at the checkout screen.
Here are some examples from Black Milk Clothing, which is made with Shopify. You can see the differet Terms agreements displayed in the bottom left corner: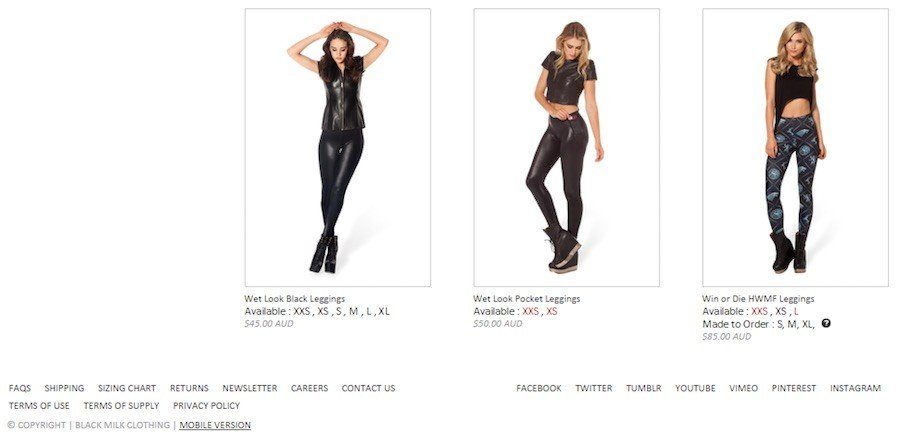 You can also share your Terms and Conditions on the final checkout screen. Here's how Amazon does it:
You can see that it states at the top "By placing your order, you agree to Amazon.com's privacy notice and conditions of use.":

A great way to make sure that your customers agree to your Terms and Conditions is by using clickwrap.
Clickwrap is where the user clicks "I agree to the Terms" either by ticking a checkbox, or clicking a submit button with an "I agree" statement written above it.
This requires the user to click that they agree to your terms before they can purchase something, which provides greater legal protection for you as the business owner.
Here's an example of a clickwrap method implemented by Cartviper: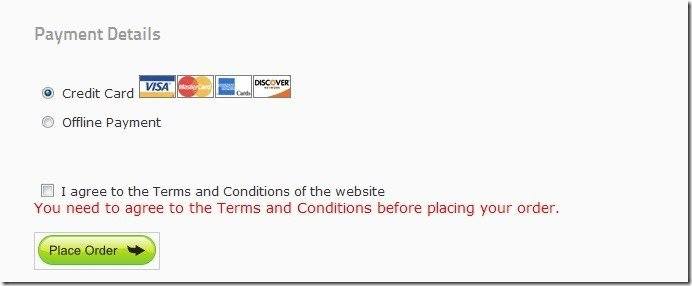 Putting a checkbox at the checkout is good, as your user needs to agree to it before they make the purchase. Even better would be that you display all your legal agreements when your user first creates an account.
For example, you could use the check box method above, but on the account creation page, like Google does for YouTube accounts: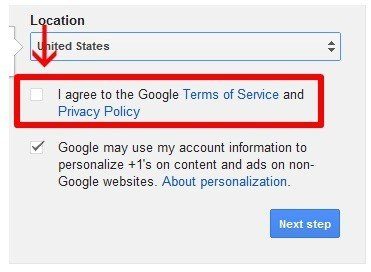 Make sure that your legal agreements are displayed and accessible at all times such as in your website footer.
Finally, in any confirmation emails you send out, it's also a good idea to include a link to all of your agreements in case your users want to read them. The more places that you display links to your policies, the more likely it is that your user will be bound by them.
Other legal agreements
A Terms and Conditions agreement isn't the only type of agreement you should have for your e-commerce store. It's good for customer retention to create a Return and Refund Policy> that is clear and concise. You'll also legally need a Privacy Policy.
Having a Privacy Policy for your ecommerce store is required since your store will collect several pieces of your customers' personal information to process an order, such as:
Name
Address
Credit card details
Email
Phone number
Display your Privacy Policy prominently and frequently in the same way that you display your Terms and Conditions.
Don't just include your Privacy Policy as part of your overarching Terms and Conditions. It must be displayed separately.
For example, US business owners in California need to comply with the California Online Privacy Protection Act of 2003, which requires that the word "Privacy" be in the link name.
And the end result is...
Terms and Conditions are not something that should be overlooked, and along with your other policies can protect you from any potential liability arising from the sale of your products.
They also allow you to manage user conduct, retain your rights and keep your customers informed.
For maximum legal protection, always display your Terms and Conditions prominently and clearly, and ensure that they are drafted fairly and are not vague in any way.