Privacy Policy for Pinterest Advertising
Pinterest is a very popular platform where users can "pin" interesting things they come across on the web to a "board" within their Pinterest accounts.
Because of the popularity and versatility found on Pinterest, many businesses are choosing to advertise on the platform through Pinterest's targeted advertising.
Targeted advertising, also known as remarketing, is when a user's activities are tracked via cookies after he leaves the tracking website and continues to browse the web. Relevant ads based on activity and browsing history are then shown to that user when he's browsing the web.
This cookie usage and tracking raise issues of privacy that must be addressed by your business.
Here's what you need to know if you decide to do targeted advertising through Pinterest.
First, Pinterest provides Advertising Standards where specifics are outlined, including restrictions. Reference these standards to ensure compliance. You can find best practices, creative tips, and useful information here.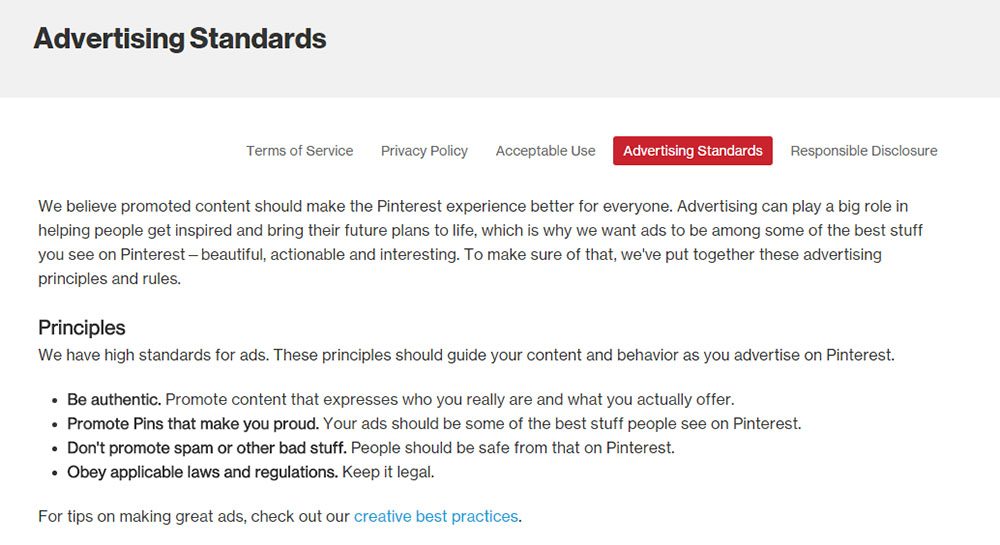 When you participate in remarketing through Pinterest (or anywhere else), you must update your Privacy Policy so that you include information that lets users know that you're doing this.
You must also provide a way for your users to opt out of the remarketing tracking done by you or by third parties you're working with.
Here are a few examples of how companies and businesses that advertise through Pinterest have updated their Privacy Policies and have included opt-out information for users who wish not to participate in targeted advertising.
About.com has a link to its Terms of Use & Policies section in the website footer:

From this section, there's a menu of all of the policies, including both a Privacy Policy page and a specific Cookie Policy page that also includes choices regarding ads for users.
The "Advertising Guidelines" section helps advertisers by informing them of rights and restrictions, and also helps users know what they should expect from advertisers following these guidelines: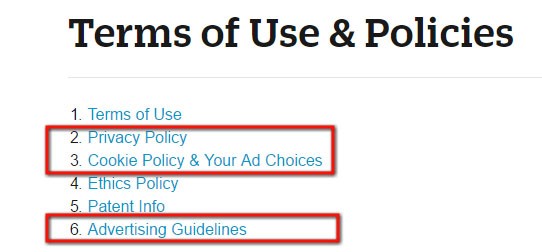 The Privacy Policy of About.com includes a section about "Cookies, Web Beacons, and Similar Technologies" where users are informed that cookies may be used by About.com and/or its partners to:
Collect information about browsing habits so that customized and relevant ads may be displayed, and
Work with third parties who do advertising.
Information for opting out is also provided, as well as a link to where a user can opt out of cookies and tracking.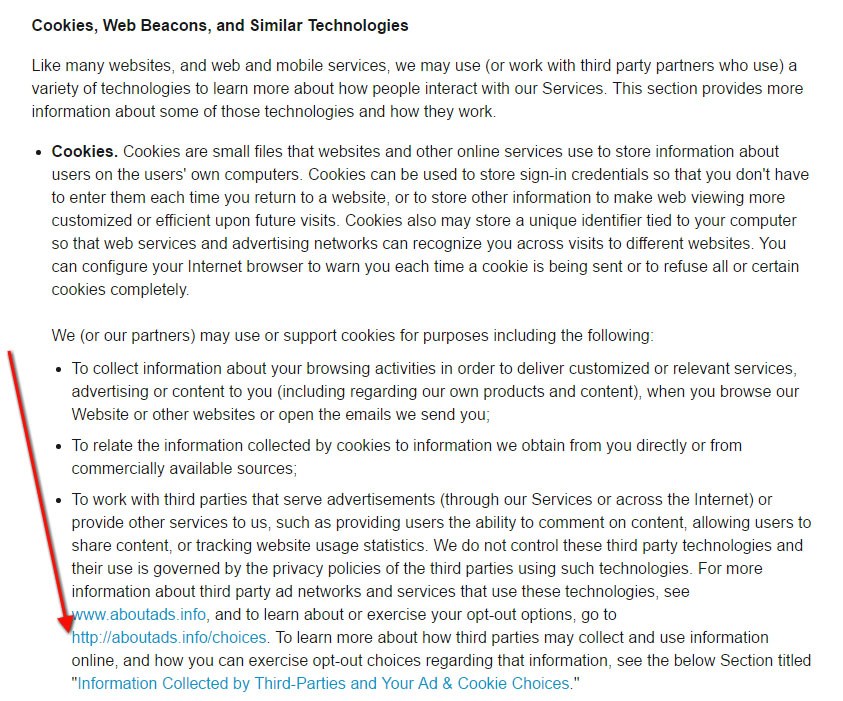 The Cookie Policy is also referenced here and users are informed that they can find additional opt-out choices in the section titled "Information Collected by Third-Parties and Your Ad & Cookie Choices".
The "Cookie Policy & Your Ad Choices" section of About.com's agreement provides general information on how ads may use cookies and web beacons for interest-based advertising and other targeted content.
Links for information on third-party ad networks, interest-based advertising and cookies are all included, as well as methods for opting out, controlling or disabling these functions.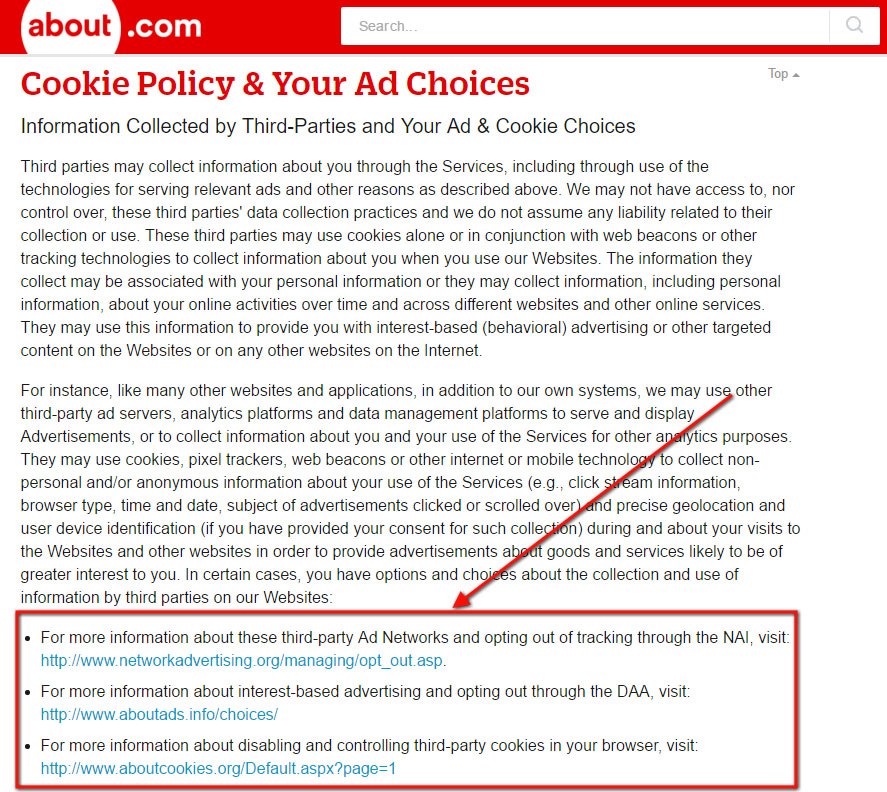 The "Advertising Guidelines" section spells out what advertising content is prohibited, such as:
Drugs, alcohol and tobacco,
Gambling,
Political content
Religious content,
Discriminatory content, etc.
The "Additional Standards" section has a list of common advertising terms and features with a short sentence of additional information regarding rules for that feature.
For example, the "Endorsements" section states that ads may not imply that About.com endorses a product, organization or service, nor create that endorsement. The "Compatibility" section states that ads must be able to function the same on both Apple and PC formats, and work with all major web browsers: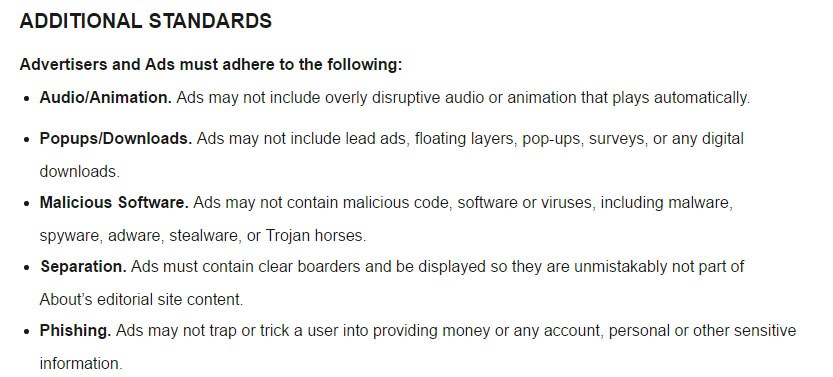 BuzzFeed includes links to both its Privacy Policy page and the "Ad Choices" section at the bottom of its web pages.
Splitting these sections up like this helps make it clear to users that there are in fact ad choices that they can be making if they wish to.

BuzFeed's Privacy Policy integrates the "Ad Choices" information. If a user clicks on the "Ad Choices" link in the footer section, she/he will be taken to a section within the Privacy Policy titled "Information Related to Advertising and the Use of Web Beacons":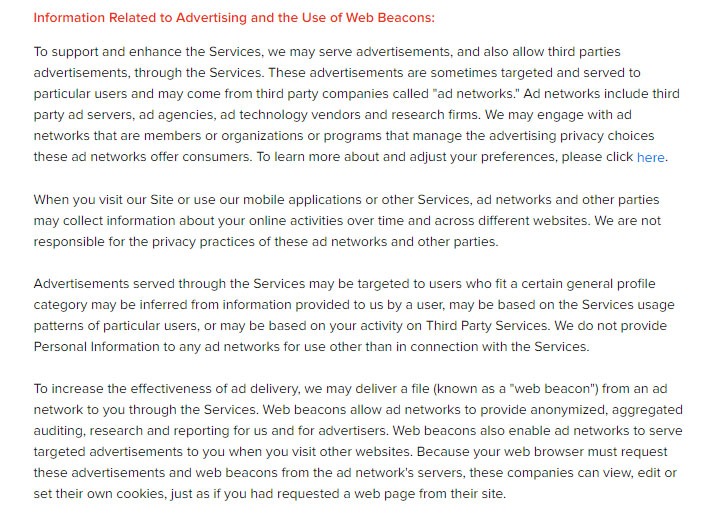 In this section, users are informed that:
Advertisements may be shown by BuzzFeed as well as third parties,
Sometimes these ads may be targeted, and that
Preferences can be adjusted via a provided link.
This embedding of ad information within the Privacy Policy is pretty standard and commonly seen. The "Ad Choices" information directly relates to issues of privacy, so it's a logical placement.
However, by providing the separate link in the footer for "Ad Choices", users will have an easier time finding this section right away without having to dig through the entire Privacy Policy.
Eat Smarter includes a link to the Privacy Policy page within its website footer section. There's also a link to an "About Advertising" section:

Eat Smarter's "About Advertising" section is designed to inform advertisers about their rights and responsibilities when advertising. This is useful for advertisers, but can also offer insight to curious users as to what advertisers are supposed to be doing - and not supposed to be doing.
Eat Smarter's Privacy Policy includes a separate section for "Remarketing Advertising", as well as for "Google Adsense Advertising":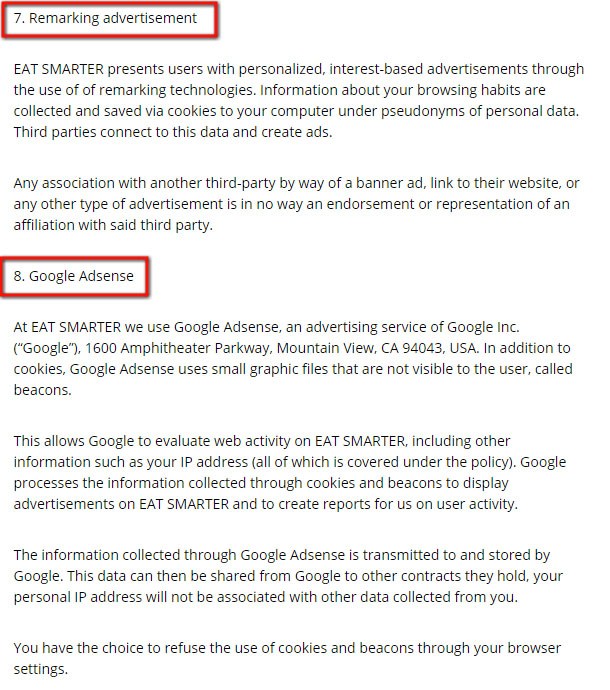 There's also a separate section that addresses the relationship between Eat Smarter's integration with the Pinterest "Pin It" feature, as well as a link to the Privacy Policy of Pinterest:

This separation of information is really helpful for users who are trying to find information specific to advertising, or Pinterest.
If you're going to advertise through Pinterest, remember to do the following:
Read and follow the Pinterest Advertising Standards,
Update your Privacy Policy to let users know that you're involved in remarketing advertising or whatever method of advertising you're doing that involves cookies or web tracking beacons,
Provide easy-to-locate links to your Privacy Policy (typically found in a website footer). Consider creating a separate link for advertising information, even if this link just takes you to a specific section within the same Privacy Policy. This makes things clearer for your users, and
Provide a method for allowing your users to opt out of your advertising practices and make it clear to them how to opt out.