Privacy Policy for Sign In With Facebook Button
---
Facebook Connect or "Login with Facebook" is the button that allows Facebook users to use their accounts to log in at or create accounts with other websites.
Login with Facebook works with over 15,000 other websites and allows for increased and more efficient interactivity between users and websites.
For example, if you use Facebook Connect to connect to a third-party website and leave a comment on a blog post on that third-party website, you can set up your Facebook account to publish your comment automatically to your "wall" or newsfeed so all of your Facebook friends can interact with it.
Facebook Connect also saves people time by not requiring users to have to re-enter personal information and create accounts at all of their favorite websites.
By clicking the Login with Facebook button or the Signup with Facebook button, all of your information will automatically be transferred to the third-party website and an account will be created automatically for you.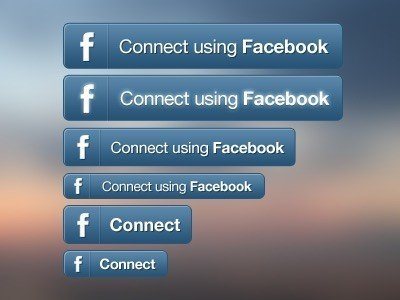 This kind of functionality is commonly used both on websites and mobile apps and can be found across the board, from games and entertainment apps and websites to business and productivity apps and websites.
According to Facebook's Statement of Rights and Responsibilities, if you develop a Facebook app or sign up to use a Facebook app such as Facebook Connect, you must adhere to Platform Policy of Facebook:

This Platform Policy includes a section called "Give people control" that lists a number of requirements, including the requirement that a Privacy Policy must be publicly provided and be made easily accessible: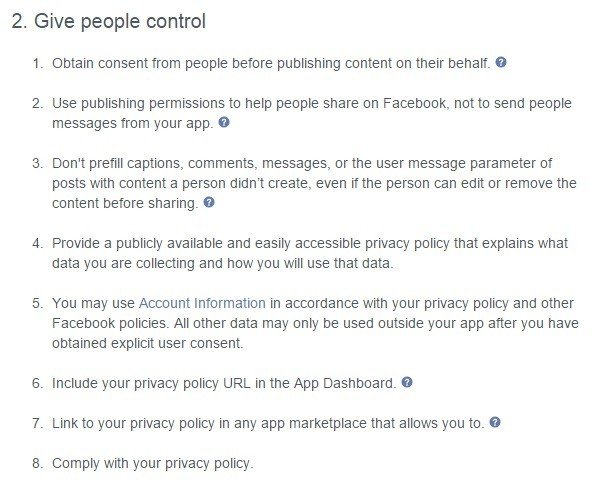 Not only must the agreement be publicly provided and be made easily accessible, but it must also:
Explain what data you are collecting, and
How you will use that data
This means you must let users know what data you are collecting when a user chooses to log into your website or mobile app via the Facebook Connect button, and how you will use that data.
Here are a few examples of websites that use Facebook Connect and the relevant clauses in their Privacy Policies that inform users about what data they might collect when an account is set up via Facebook Connect.
Care2
Care2 allows users who have Facebook accounts to log in to Care2 with their Facebook accounts: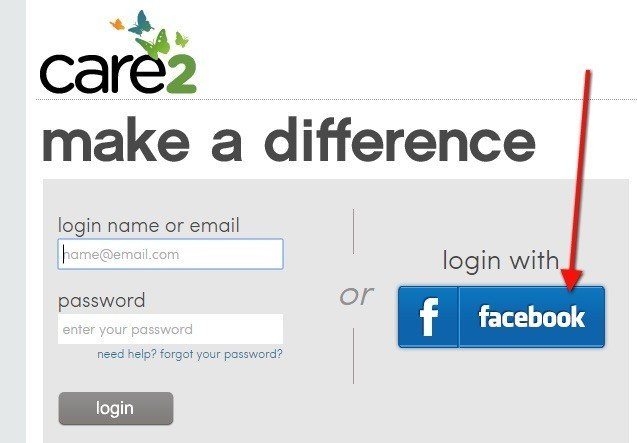 In the Privacy Policy of Care2, there is a very clear and outlined breakdown of what personal information users should expect to have to disclose depending on how a user logged on to the Care2 network, including a user's name, profile picture, gender, birthday, city location, email address, and other Facebook-specific information like names and pictures of Facebook friends, interests and affinity networks, and other information.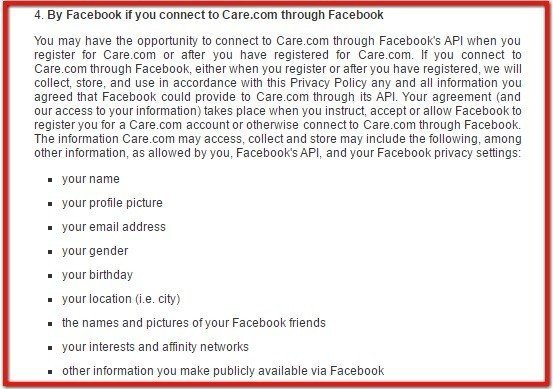 This bullet-pointed list makes it easy for a user to understand what information of theirs will be collected when they log in to Care2 through Facebook.
Fitbit
Fitbit allows users to sign up with Facebook when creating a Fitbit account as well: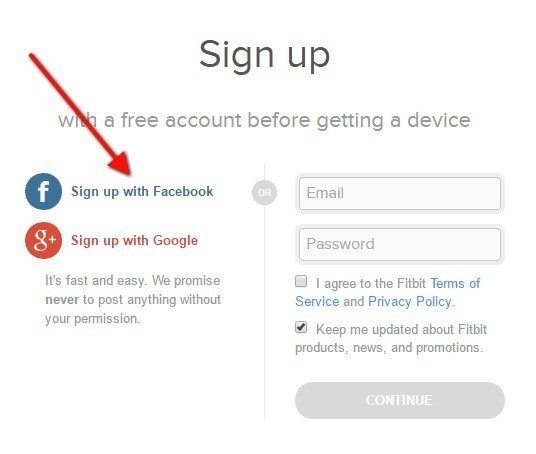 The Privacy Policy of Fitbit reflects this, and provides users with information about what information will be collected if a user signs up via Facebook.
Fitbit states that users will "have the option to create your Fitbit account using a different credential like your Facebook or Google+" and then goes on to clarify that basic information from that account, like your name, profile picture, and friend list" will be collected if permission is granted by the user.
Users are also informed that permission can be revoked at any time and that the purpose of accessing the contact/friends list is for the purpose of letting Fitbit and Facebook users identify which of their Facebook friends are also Fitbit users.

TripCase
TripCase provides a signup through a Facebook or Google button: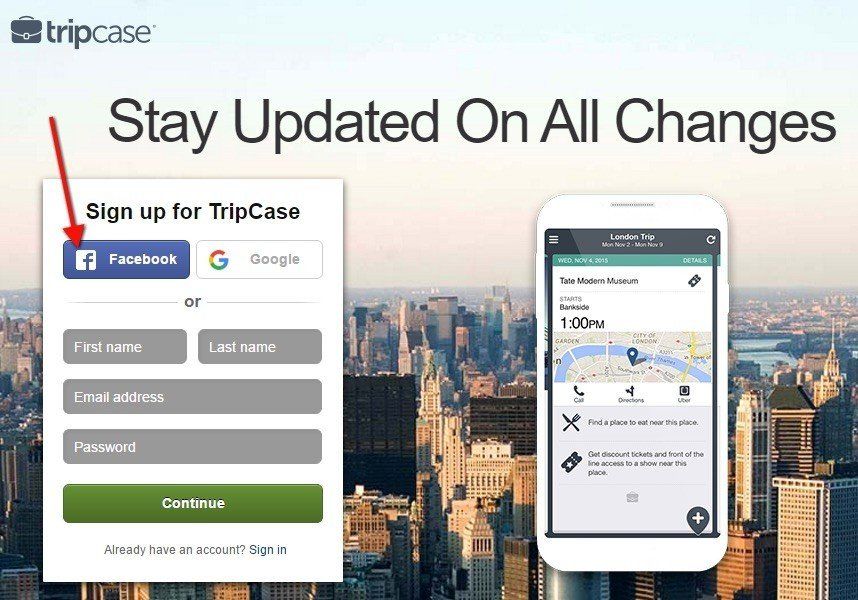 The Privacy Policy of TripCase includes a short paragraph within the "User Sharing via Tripcase" section that lets users know that if they connect to TripCase via a third party such as Facebook, authorization to collect authentication information will be assumed.
Authentication information includes a user's "name, email address, and encrypted access credentials."
Users are also informed that this information may be used "for purposes explained in this statement, and it may also be used to verify your credentials with the [third party, such as Facebook]."

Vyclone
Vyclone gives new users the option to either register directly with Vyclone, or sign in with an existing Facebook account: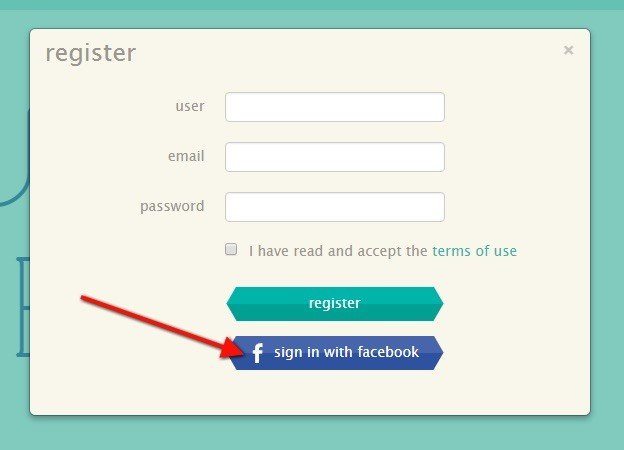 The Privacy Policy of Vyclone includes a very detailed section titled "Information Collected From and Shared With Social Networking Sites."
This section lets users know that "if you log on to the Service with your login credentials from a social networking site" such as Facebook, Vyclone may receive personal information about the user that's in accordance with the terms and conditions of the social networking site.
This is useful in that it gives a user notice to check the legal agreements such as the terms and conditions of whatever social networking site a user connects to Vyclone.
Vyclone itself will request permission to view the following pieces of information: Basic Info, Status, Location, Events you plan to attend, and will as whether you'd like to publish the content you create on Vyclone to your Facebook page: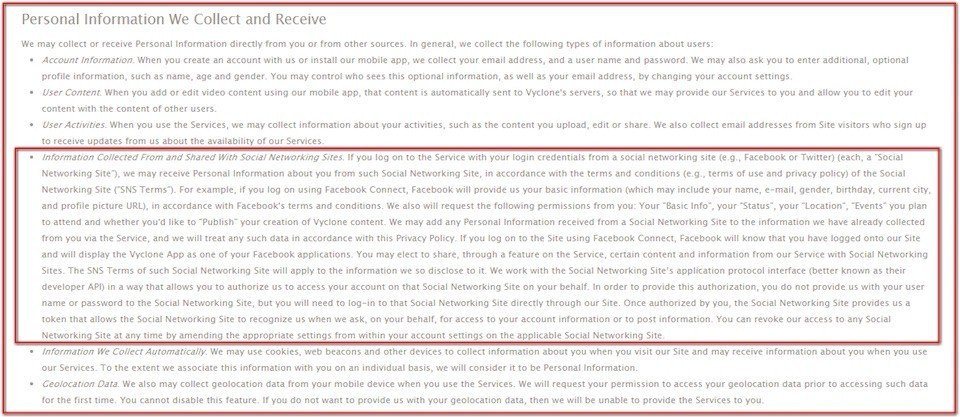 SoundCloud
SoundCloud gives new users the option to sign in with Facebook instead of registering by entering an email address and password to create a SoundCloud account.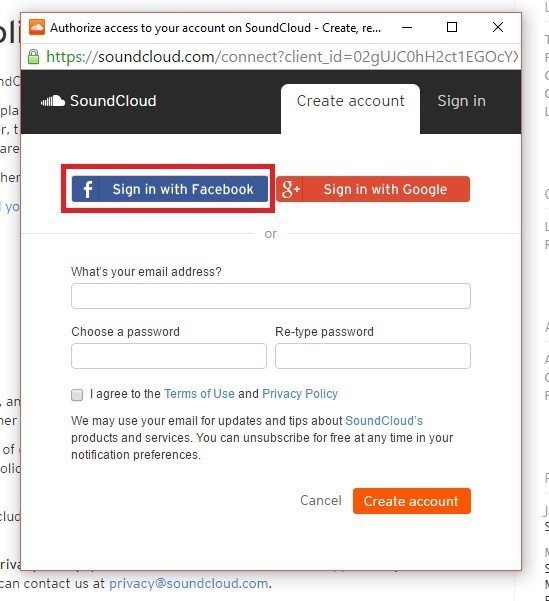 The Privacy Policy of SoundCloud includes an entire section solely discussing how using Facebook Connect will affect the privacy of a user.
This section lets users know that a "first name, last name, email address in order for us to verify your identity and gender, general location, a link to your Facebook profile, your timezone, birthday, profile picture, your "likes" and your list of friends" will all be accessed, with permission asked, by SoundCloud.
Information on how this information will be used is included, as well as a method for changing and controlling these settings.
SoundCloud' users are informed that:
If you sign up to SoundCloud using Facebook, your SoundCloud account will be connected automatically to your Facebook account, and information regarding your activity on SoundCloud, specifically any new public sounds that you post on SoundCloud and any new favourites, will be shared with Facebook and will be published in your timeline and your Facebook friends' newsfeeds.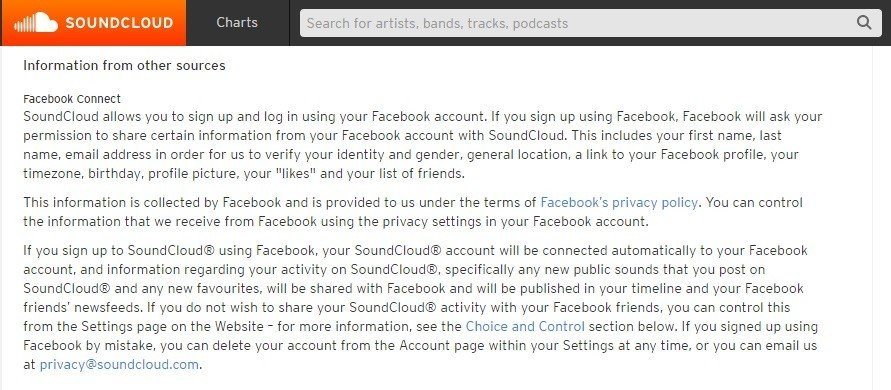 This thorough and detailed information is very clearly written for users and conspicuously placed in a Facebook-specific section of SoundCloud's Privacy Policy.
TripAdvisor
TripAdvisor gives users the option to continue to use their website by allowing them to continue through Facebook or Google accounts: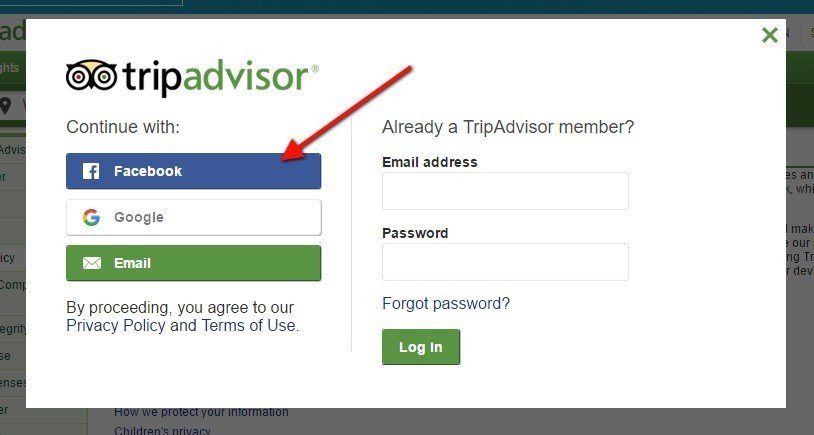 The Privacy Policy of TripAdvisor mentions information about Facebook Connect in two different locations.
First, in the "Information from Other Sources" section, TripAdvisor lets users know that their Facebook accounts can be integrated with their TripAdvisor activity by explaining how "if you are logged into Facebook and TripAdvisor, TripAdvisor will be personalized for you when you visit the website, even if you are a first-time user of TripAdvisor's Website."
TripAdvisor uses Facebook's features to create a custom experience for users of both social network services.

The second mention is in a section titled, "With Whom We Share Your Information" in a "Social Media Services" sub-section.
This short section simply lets a user know that he can choose to access third party sites, like Facebook, through TripAdvisor and that information you share with those sites will be governed by the privacy policies of those sites.
This is a helpful way to remind concerned users that they should check out the third party's privacy policy as well as TripAdvisor's.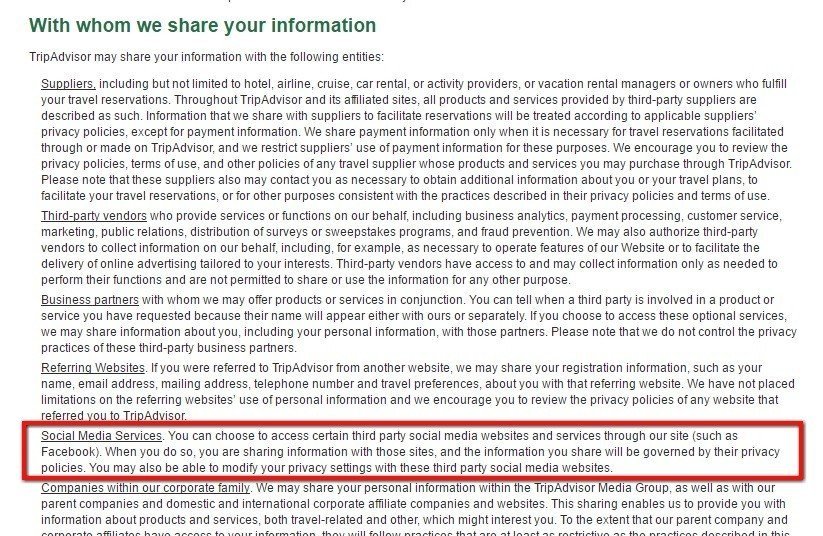 Upwork
Upwork allows users to join their service by connecting through a third party social networking service, such as Facebook.
In its Privacy Policy, Upwork provides a section titled "Social Networking Services."
This section lets users know that if they choose to register via an SNS (social networking service), the personal information that a user had provided to the SNS in the past will be used by Upwork to create their account, such as "name, email address, gender and other information" made publicly available via the SNS.
Users are also informed that other pieces of information, such as an IP address and which page a user visits on the Upwork site may be collected when using a third-party SNS to connect to or interact with Upwork, and that cookies may be placed to enable this to function properly.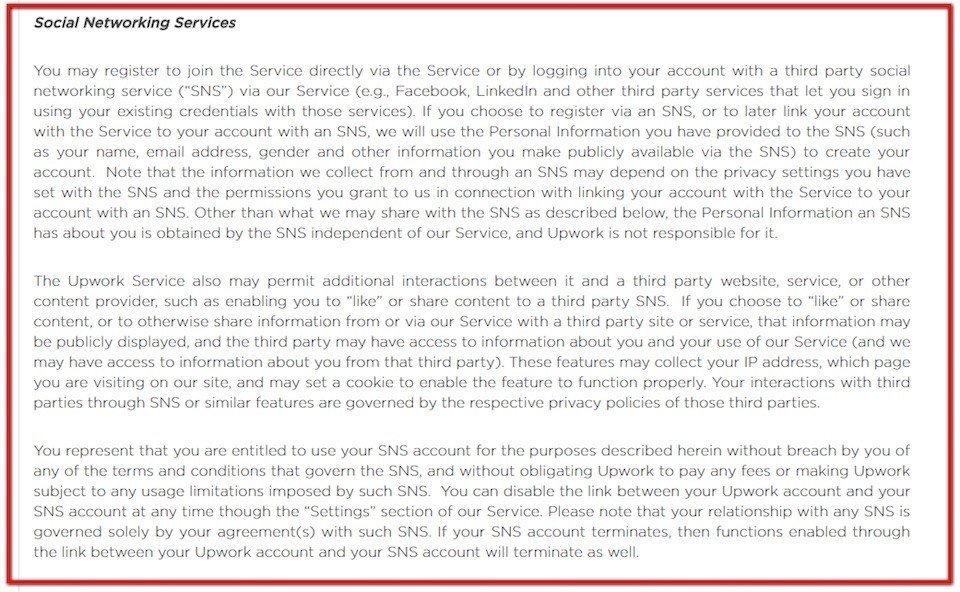 If you allow users to connect to your website or mobile app through Facebook Connect or another third party account, remember to update your public Privacy Policy to reflect that you do this.
Explain what data you are collecting from their Facebook accounts when a user chooses to log in through a third party, and how your website or mobile app will use that data.