Sample Service Legal Agreement (SLA) Template
---
A Service Level Agreement ("SLA") is a very important component of a relationship between a service provider (your business) and a client (your customer).
An SLA is a contractual agreement between the business and the client where the services that will be provided are defined and described, and where remedies if a business cannot meet these requirements are set forth.
Some common sections of this kind of agreement include a description of how the service provider will operate, how problems will be managed, what the responsibilities of each party are, how the agreement can be terminated by either party, what exactly will be provided and how, and what a customer can do in the event that service levels are not satisfactory.
These agreements are very common in certain industries, such as hosting companies and other delivery services where customers have high expectations to almost meet perfection. Having an SLA in place is very helpful to a company that provides a service because it helps set and maintain realistic expectations of customers.
A web hosting company, for example, can state in its SLA that uptime (the time when the client's website is up and running and accessible) will be 99% and all downtime issues addressed and resolved within 24 hours.
This manages expectations by making it clear that sometimes a client's website may be down, but that it won't be down for very long. It also takes away the expectation of immediate response and resolution by providing a 24-hour window.
A delivery company can say that 90% of all shipped packages will be delivered within 24 hours, and 100% within 36 hours. This helps give customers using the shipping service the realistic expectation that delivery may take up to 36 hours.

RPost, an email delivery service, includes the following language in their SLA to give customers a clear idea of delivery times.
Note the 2-minute time limit and the mention that this is valid for 99% of deliveries. This lets customers using this service know that message delivery won't necessarily be instant, and that there is always a chance that mail may not be delivered at all.

See the below example from Hootsuite and how they describe the percentage of availability of their service in their SLA, as well as what will be done to resolve issues that cause downtime. Further, they outline a credit system where downtime can translate to a credit to the customer.
This helps give customers not only an idea of what to expect but a remedy in case those expectations actually go unmet within the scope of the agreement.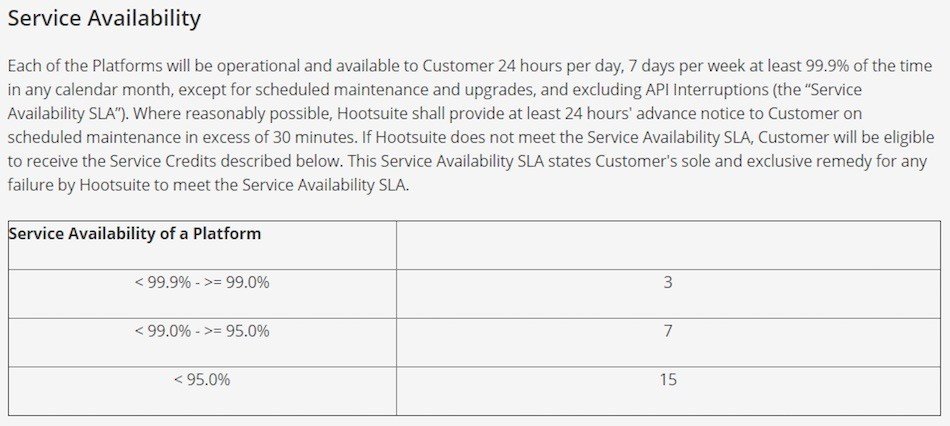 Here is an example of how WPEngine includes similar information in their SLA.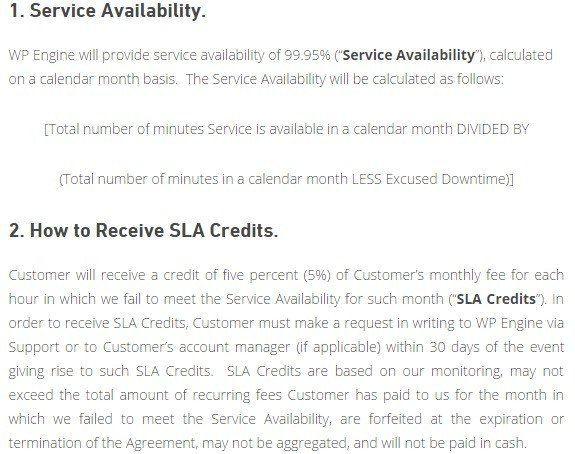 SLAs are also helpful for companies who use them because they can break down in a very detailed and specific manner how services will be provided so that there is no room for misinterpretation or unclarity on the customer's end.
See the below example of how Hootsuite has charted how help tickets will be addressed. This is a good way to let a customer know what to expect. Otherwise, after 30 minutes a customer may be concerned that a critical issue isn't addressed. With information like this in the SLA, that customer will know to wait an hour before becoming concerned.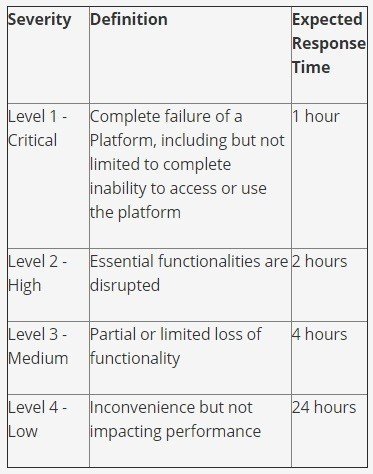 SLA vs. Terms and Conditions
You may think that a SLA isn't needed if you include relevant information in your Terms and Conditions, but this isn't the case.
Terms and Conditions sections (also known as Terms of Use or Terms of Service) cover a broad scope of general requirements and conditions to using a website or service. An SLA provides specific information on what level of service can be expected by a customer. While each document can reference the other, they should be kept separate.

Here is an example of the Service section from the Terms and Conditions of Hootsuite.
Note how the language here is very broad and includes information such as the maximum number of support tickets that can be submitted per day, and limitations on the use of Hootsuite Pro to be "solely for your personal or internal business purposes."
These terms are binding upon the customer, and violations can be addressed by Hootsuite.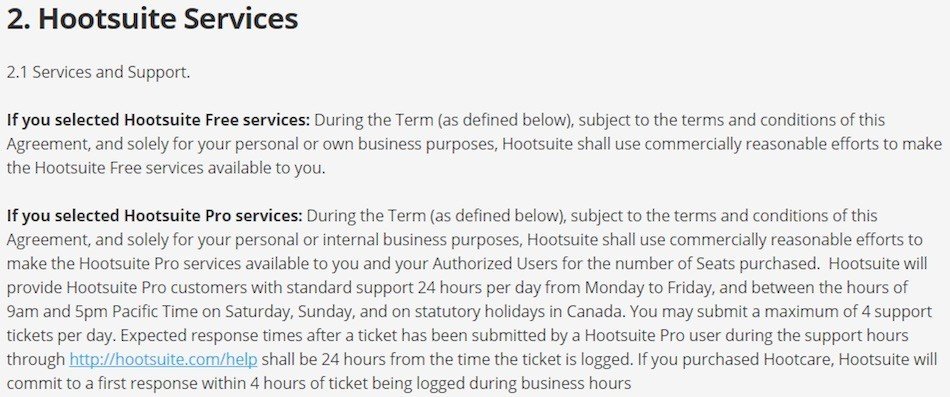 Compare this language to the SLA language in an earlier example image.
You will notice how the SLA language is very specifically related to services provided and outlines what the company will do and what the customer should expect, but only in regard to the service.
Basically, Terms and Conditions describe how a service should be used, and all related legal requirements and stipulations, as well as remedies for violations. SLAs tell specifically what level of service will be provided to customers, and remedies for when that level of service cannot be provided.

WPEngine separates their Terms of Service agreement (which is another way of saying Terms and Conditions) from their Service Level Agreement on their legal page and provides a short description of what each is for.
The Terms of Service is described by saying, "These Terms of Service detail the conditions under which we will provide our services to our customers."
This is a great way of letting customers know that the Terms of Service is the base document that includes conditions of using the service.
The SLA description instead reads, "The SLA specifies our Service Availability and Error Response goals and outlines remedies for any failure on our part to meet those goals."
This adequately informs customers of what is in the SLA and shows how it is a different document than the Terms of Service.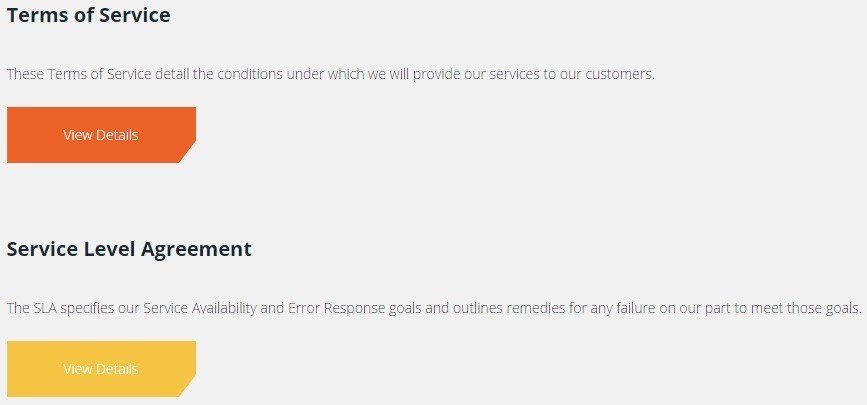 WPEngine includes references to their Service Level agreement within its Terms of Service agreement and sets forth the terms that surround the SLA. This shows the broad nature of the Terms of Service in comparison with the most narrow nature of the SLA.
The outlined section in the image below shows how an SLA falls under the scope of a Terms of Service agreement section.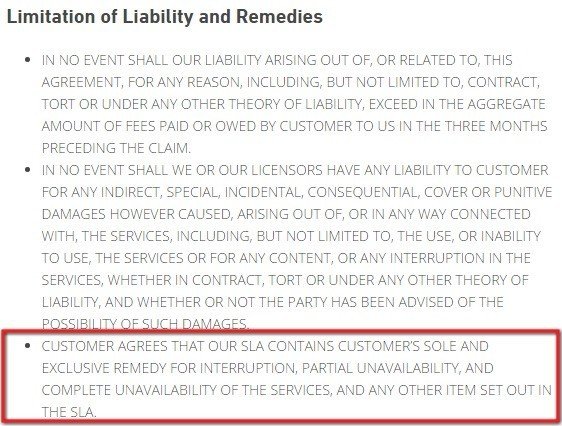 Always include a separate SLA when you are providing a service to customers that have high expectations. This will help keep your customers satisfied and give your business room to address issues in a realistic timeframe.