No Return No Refund Policy
You would be hard-pressed to find a brick and mortar storefront with no return policy.
After all, if that kitchen mixer, oversized dress coat or computer monitor does not work for a customer, it is more cut-and-dry than discovering that the NBA League Pass or Google Play music selection did not meet taste expectations.
In those first few examples, there's a material item to return. With digital purchases, especially anything that involves a subscription, the process of returns and refunds is less clear.
While Return and Refund Policies on products are not required in the U.S., many companies enact them in order to assure consumer confidence.
Apple iTunes changed its Terms and Services for EU customers due to laws that required it to do so. However, in other jurisdictions, you may have the option of having a restricted policy on returns and refunds.
If you decide to have a "No Refund, No Refund" policy for your digital products, for example, make it conspicuous and draft it to clearly indicate your intent.
What's a Return & Refund Policy?
A Return and Refund Policy is exactly what it sounds like it's a written procedure that explains to your customers how to make a return on an item.
You can make this kind of policy as complicated or simple as it needs to be. Amazon has a system where customers request a return label and make arrangements to ship back an item.
Other retailers that ship physical items adopt a similar approach.
This kind of policy can locate on your product's website or within your mobile app. You'll need to create a conspicuous link to it and make it easy to navigate.
Amazon maintains a "Return Center" but also keeps a "Return & Refund Policy" on Kindle eBooks within its Help section.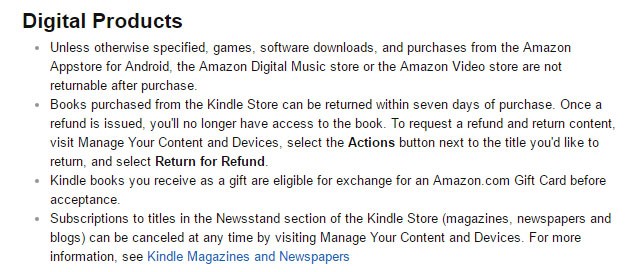 Google Play has a generous policy which allows customers to return an app or game within two hours after purchase and receive a refund.
Google states within its policies and explains the steps the user needs to take: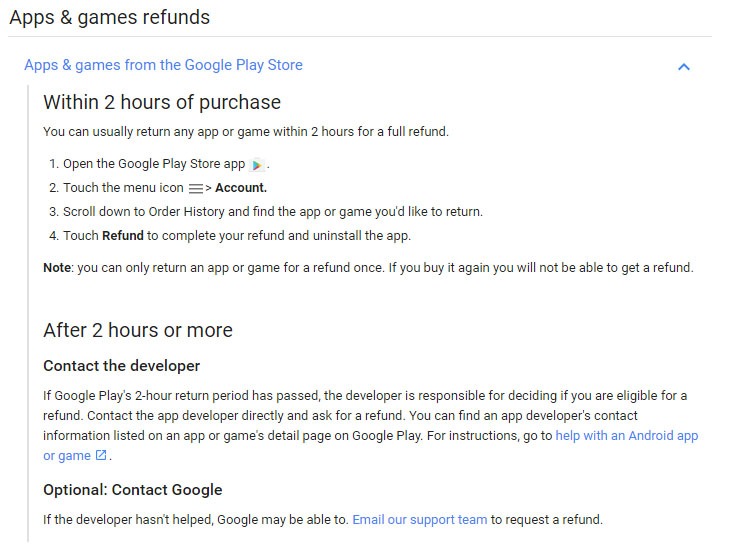 The Google Play Store also sells music, movies, books, and news items. Each of these has a different Return/Refund Policy.
If customers purchase movies or television shows from Google Play, they can return them if they have not started watching them. In order to exercise this right, they must return it unwatched within seven days.
However, that deadline is modified to 10 days for Italy and 14 days for Denmark, Finland, Germany, Norway, Portugal, and Sweden: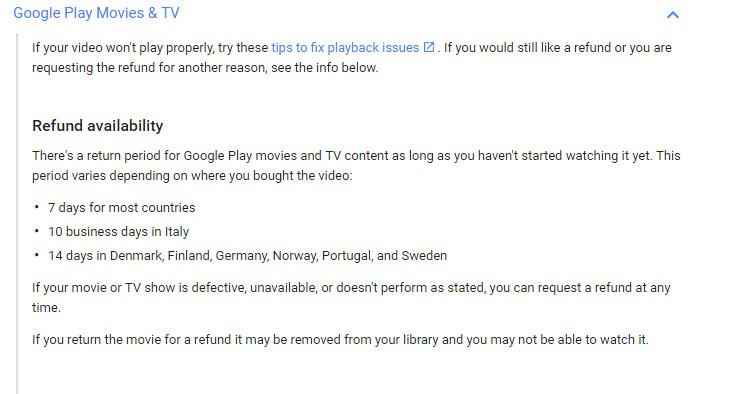 Music is a similar arrangement. It can be removed from a customer's collection with cancellation. However, unless it's due to the music not playing properly, there's no authorization for a refund.
Also, the rules change if the customer is using a music subscription since subscription services tend to be more complex due to recurring charges.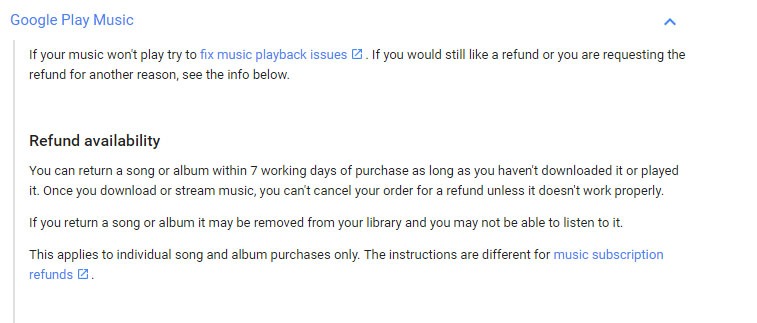 Google Play Newsstand, which offers access to magazine and newspaper subscriptions, is a different matter entirely.
Single-issue refunds are not allowed unless there is a technical difficulty. If there's a subscription for multiple issues, it needs to be canceled within the first seven days in order for the customer to receive a refund.
Refunds are also offered if there are defects but there are no refunds on subscriptions that have concluded.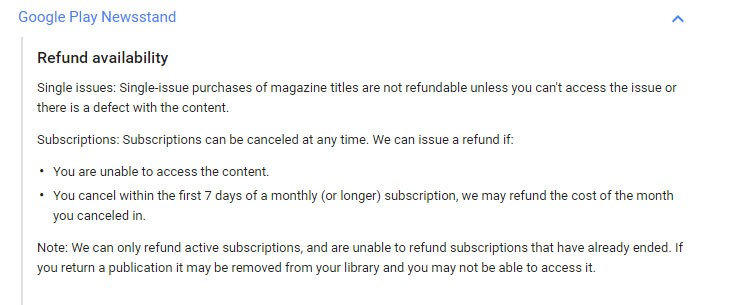 Generally, a Return & Refund Policy makes the conditions of a purchase clear. It gives consumers an idea of what to expect and helps them assess the risk of purchasing a product, whether it is digital or solid.
However, when you plan your website or app layout, give care to where your policy's page is located.
Some policies are easier to find than others, and you may want to place links to it in multiple sections, like FAQs, Help sections, Terms and Conditions agreement, and other areas where a consumer may look to see if a return or refund is possible.
Finding the return policy for Kindle, for example, took involved digging.
Making your Return & Refund Policy difficult to find could give the impression that you're discouraging customers from requesting returns and refunds.
When a return or refund is not an option
There's a possibility that authorizing a return or refund is not beneficial to your bottom line. In these matters, you need to have the opposite of a Return & Refund Policy: a No Return, No Refund Policy.
Subscription services
The most common area where you find these are subscription services where a user plays a monthly, quarterly or annual fee to access music, streaming video or other services.
A "No Return, No Refund Policy" normally allows a user to cancel the service but there are no refunds for previous use.

NBA League Pass is a streaming service used on smartphones and computers that allows access to National Basketball Association (NBA) games during the basketball season in the U.S. It renews annually and users' fees are based on the number of games they wish to stream each season.
In its "No Return, No Refund Policy" within the Subscription Agreement, the NBA informs the user that they can discontinue the subscription when the season concludes and prevent renewal for the following season.
However, even if they cancel the service during basketball season before watching all the games, the NBA does not provide any refunds for the annual fee: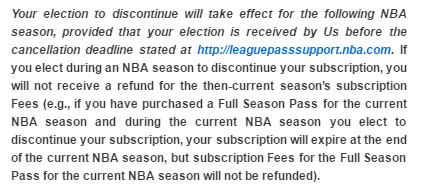 The NBA is not alone is refusing returns or refunds for its digital streaming product.

HBO recently released its own streaming app that does not require a cable or satellite TV subscription in the U.S. When a user signs up for the service, it offers a similar explanation in that they can cancel at any time.
However, according to its Terms and Conditions agreement page, if the user cancels the service before it renews the following month, access to the service ends at the end of the month.
Even if the user does not use the service for that time, there's still no refund issued. Failing to cancel the service before the next month renews also does not authorize a refund.
Basically, streaming services allow for cancellation to stop continuing charges. Their policies do not make refunds possible even if there's not any use.
If you're running a streaming service, this is a fact you need to make very clear to your customers. Providing an easy cancellation procedure will help in this matter immensely.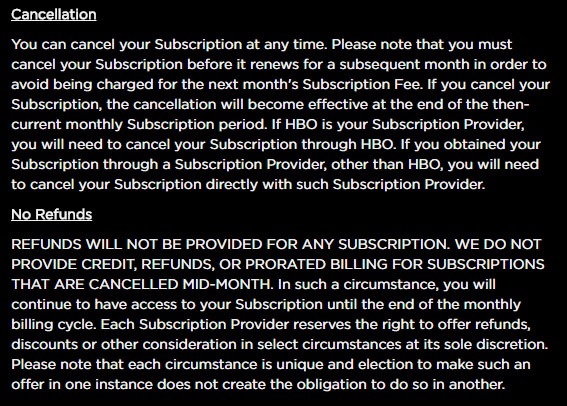 Jurisdiction matters
The "No Return, No Refund Policy" likely appears like a good idea, especially if you're concerned about users downloading your product for the short term, making use of it, and then demanding a refund as a way to benefit from your digital product without paying for it.
That is the reason why many subscription services operate the way they do without allowing refunds. HBO and the NBA do not want people using their services for a few months or even a year and then demand a refund.
However, you need to proceed with caution. Just because a policy of "No Return, No Refund" makes good business sense does not mean that it will be enforceable in all countries where users download your app.
This was one lesson that Apple learned the hard way.
In its App Store, Apple also extended this kind of policy to all app purchases including those that did not involve subscriptions. However, that policy ran against laws in the UK, Germany, Italy, France, and other European Union countries where refunds on digital products are required.
To avoid legal action, Apple refunded fees to the users who wanted to cancel purchases but were unable to do so.
For EU customers, it also changed its Terms and Conditions agreement to allow for no-questions asked refunds 14 days after purchase. Apple provided an easy-to-navigate platform that makes refund requests easier and gives Apple legal protection.
Apple's experience becomes a good object lesson if you are looking at distributing digital products around the world.
If you're using the App Store as a way to distribute your mobile app, never assume a sale is final within those first 14 days of purchase, especially for EU customers.
For U.S. customers, Apple does not extend this same generosity. In the U.S. version of the Terms & Conditions agreement, the Terms of Sale states that all sales are final.
If the app involves a subscription product, cancellation is still allowed, although it will work under the same No Return, No Refund Policy that was discussed before.
It appears even on the international front, refunds are not required with subscriptions unless there is technical error: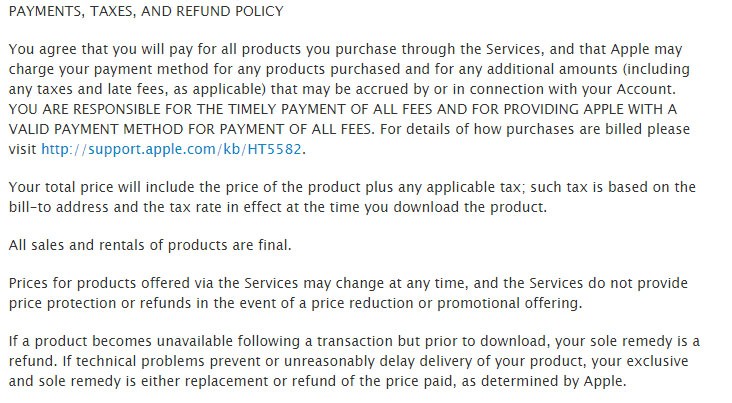 For now, it is unlikely this is going to change. In the U.S., Return & Refund Policies are considered a good business practice but are not legally required in most states.
That is likely why Apple maintains its old Terms and Conditions in the US.
Best practices for Return & Refund Policies
Generally, you will likely have a "Return & Refund Policy" for your apps and other digital products and a "No Return, No Refund Policy" for any subscriptions services you offer.
Unless your app is only available on the Apple App Store in the U.S., returns and refund are inevitable, so it's unlikely you can prevent them completely.
If you are considering a No Return, No Refund Policy, consider the following:
Jurisdiction. Even if you operate solely in the U.S. which does not require a Return & Refund Policy, there are individual state laws that require specific notices when you do not authorize returns or refunds.

Make sure you conform to those requirements before you start selling your products.

Stay aware of international law. If you are operating in the E.U., you likely want to err on the side of maintaining a Return & Refund Policy, rather than not authorizing those transactions.

The good news on this front is while Apple has a detailed policy on cancellations, returns, and refunds, it does not apply the same standards to subscription services.

Examine the true nature of your product. Is your app a one-time license purchase with no additional charges for use or is it a subscription service, like NBA League Pass, Netflix or HBO Now?

If you are offering a subscription, you have more leeway in refusing returns and refunds than if you're advancing a product with a one-time charge.

Balance costs of allowing refunds with customer goodwill. As mentioned, while many U.S. states do not require a policy on this matter, many retailers provide them anyway.

Assess the risk of leaving out this strong element of goodwill. People are accustomed to having their concerns addressed when they are not satisfied with a product.

Not allowing a refund could end in irritate online reviews that affect your bottom line.

Consider alternatives. If you believe a "No Refund, No Return Policy" may lead to bad effects, there are other ways to give assurance to your profit margins.

Consider trial periods where a user enjoys your app for free before making a purchase. Also, you can offer your app in a downgraded free version with a fully-equipped version available for payment.

These approaches can be more helpful.

Be clear and conspicuous. If you decide to take the "No Refund, No Return Policy" route, make it obvious to your customers.

Put links on your website and consider making it the first statement in your Terms and Conditions.

Making it clear that you do not authorize returns at the beginning gives customers a good idea of what they are getting into so there are no surprises later.
Your Return & Refund Policies need to be fair, clear, and easily located on your website or within your app. Proceed with caution since refusing returns and refunds in the wrong jurisdiction will prove costly.
Basically, a balance of international awareness and clarity will prevent your No Return, No Refund Policy from becoming a publicity nightmare while also preserving the profitability of your digital products.